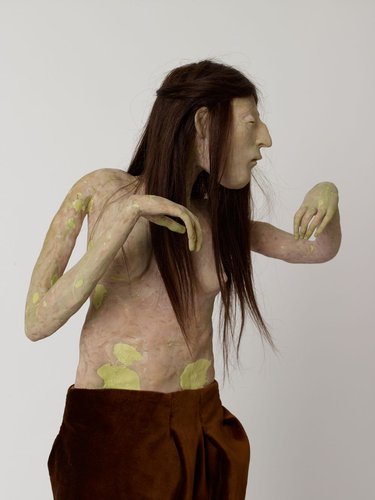 Ralph Paine – 9 November, 2017
When considered a modality of a demonic distribution it becomes evident that art can have no proper place, no patrimony, no fixed institution or identity. In this sense, what "acts" in art is a "plastic, anarchic, nomadic principle" that precedes actual artworks. Spurred by this principle, artworks leap. They leap over barriers and walls. Over borders and boundaries, limits and termini—and this even when seemingly crouched in profound stillness and silence: a watercolour, a novel …

Recently, Lana Lopesi expressed contempt for Francis Upritchard, accusing her of theft, misogyny and racism and of receiving unwarranted dispensation for her art. By way of rejoinder, I present the following.
…………..
In inquisitorial times, how best to speak in defence of those intimate strangers whom we adore? Of those who have created the world afresh and cast us adrift in its lightness, its currents and eddies, its storms? They are famous artists, musicians, poets … And us? What possible alliance might we offer these grand midwives of our being new born?
Thus our complex dilemma, dilemma of the fan …
It is said that the fan has precursors—spectators in ancient arenas, eighteenth century fanaticks, the maniacs of 60s pop—and an etymological link to demons and temples (fanum). (1) Perhaps then the fan recognises the self to be a demon (daimôn, daemon), or at least to be demonised by others, a recognition that will call forth the world as shared hallucination. In Difference and Repetition Gilles Deleuze describes this type of sharing as "an errant and even 'delirious' distribution," one in which "things and beings" are not distributed "according to the requirements of representation." "Such a distribution," he says, "is demonic not divine, since it is a peculiarity of demons to operate in the intervals between the gods' fields of action, as it is to leap over the barriers or the enclosures, thereby confounding the boundaries between properties." (2)
Although today most often invoked as minor gods or evil spirits, in contradistinction Deleuze is tracing here a semantic thread connecting demons to an esoteric and far more indeterminate zone located somewhere between gods and mortals and thus he envisages demons as virtual forces, guiding forces, drives, tendencies, probe heads, simulacra. Doubtless it was Christianity which made a daimôn or daemon an evil being and impressed upon the names the significance which "demon" now has in common usage. Nonetheless, a fruitful equivocation of meaning remains within and when translating between European languages. (3)
When considered a modality of a demonic distribution it becomes evident that art can have no proper place, no patrimony, no fixed institution or identity. In this sense, what "acts" in art is a "plastic, anarchic, nomadic principle" that precedes actual artworks. (4) Spurred by this principle, artworks leap. They leap over barriers and walls. Over borders and boundaries, limits and termini—and this even when seemingly crouched in profound stillness and silence: a watercolour, a novel …
Deleuze distinguishes a nomadic type of distribution from a "sedentary" one. A sedentary distribution, he says, "proceeds by fixed and proportional determinations which may be assimilated to 'properties' or limited territories within representation." Here, each god "has his domain, his category, his attributes, and all distribute limits and lots to mortals in accordance with destiny." (5) Here, that which is distributed is space itself, and all "things and beings" allocated a proper place, a fixed identity, divided up according to a faculty of judgement dependent on transcendent measure. Art as spurred by its nomadic principle is captured and overcoded here, captured and overcoded to become part of a collective principle of administration and control wherein model-copy resemblances proliferate.
Without Deleuze stating it explicitly, what may be gleaned from Difference and Repetition is a way of forming the distinction between ethics and morality. In this we will speak of ethics in the manner of a nomadic distribution, and morality in that of a sedentary one. Hence: ethics thinks via immanence, morality via transcendence; ethics is a minor tradition, morality a major tradition; ethics consists of facilitative procedures or enabling guidelines, morality of constraining rules and limits or "thou shalt nots"; ethics makes evaluations according to life situations or "modes of existence" i.e. if we live like this then it follows that we will speak, act, and think in a certain way (either good, dignified, joyful or bad, base, sad), whereas morality makes judgements according to a pre-given order or set of laws i.e. this is always good, that is always evil.
It follows that an ethical critique of moralists will go something like this: "Given your transcendent laws imposed by force, all that the human will ever consist of is slavery and criminality, guilt and resentment, and all the behaviours that result." On the other hand, a moral critique of ethicists will go something like this: "You are atheists, you promote nihilism and chaos. How can everything be socially relative or subjective? We can't live in an 'anything goes' world. We can't live outside the law. You are anarchists!"
Doubtless the contemporary art world comprises de facto mixes of nomadic and sedentary space. While sedentary space is constantly overcoding and traversing nomadic space, fixing boundaries, allocating and managing identities and resemblances, sedentary space is constantly being reversed, decoded back into nomadic space. In the first case, the art world organises even the demonic; in the second, the demonic gains and grows. Thus within any given mix the two spaces will communicate with each other in different ways and therefore assume dissimilarly hybridised forms. (6)
When Francis Upritchard says of her figures and objects that "they're very inaccurate—decorative rather than spiritual," that "they're meaningless, rather than full of the power of real taonga, and they have no mana" (7) she wants to render them morally "inoperative." (8) Or, said the other way round, she wants her art to operate via the "as not": as not model-copy resemblance, as not religious, as not authoritative, as not moral. But rather than exodus or escape, what she desires is deactivation from within. Upritchard's invocation clearly signals that she is attentive to the reality that all attempts will be made by institutions, curators, collectors, journalists, etc. to overcode her work as representative, spiritual, authoritative, moral. It's as if she is saying, "Sure, my figures and objects abide within a sedentary distribution but I don't regard them as terms, subjects, or perhaps even 'works' of that distribution." Uprichard's invocation thus suggests an ethical spin.
Not that her figures and objects call for the spin. A name is all that's minimally required for us to get it that Upritchard presents—singular, dual, collective—"modes of existence": Giver, Taker, Hannah, Tourist, Jockey, Sun Worshiper, Mandrake, Echo Chamber, Land, Jealous Saboteurs … Together, each name and each artwork (or group of artworks) "is also always a style" and "not at all something personal, but the invention of a possibility of life … It is an intensive mode and not a personal subject." (9) Thus, Upritchard's formula à la Deleuze: aesthetics = mannerism = ethics = contemplation of potential (ways of life) = "the Other as the expression of a possible world." (10) For Upritchard, the Other is no one but rather a "plastic, anarchic, nomadic principle" that constitutes the field of perception for her art. The Other is the very possibility that there may be figures and objects and paintings at all, and that we may adopt a point of view on them. In this regard, Jealous Saboteurs (Upritchard's complete oeuvre, in fact) constitutes an indigenous "plane of immanence" populated by conceptual figures and objects: caravan, troupe, clan, cavalcade, trading party, commune, ensemble, company … A posse of "floating weeds"—to invoke Ozu's 1959 film title—and their magical kit, products and paraphernalia: an entire "image of thought."
In our view, this image of thought is enacted via simulacra rather than copy-model resemblances or the ideal notions of identity and representation: "simulacra are precisely demonic images, stripped of resemblance." (11) Neither degraded copies nor plundered icons, Upritchard's simulacra are both "constituted by differences" and relate to each other "through differences of differences." (12) Or, if her simulacra do refer to a model, the model is always already a possibility of the Other and thus a non-model or potential difference-to-come, and not a model of the Same. Accordingly, the figures and objects populating Upritchard's remarkable plane of immanence—inclusive of their gestures, clothing, motifs, decoration, colour, etc.—cannot have been stolen. Rather, they have been reciprocally traded, given and taken along the rainbowed curve of a restless and ethical leap. Given and taken, that is to say, through a suspension of the Law.
Ralph Paine
(1) On "fanaticks" and fanaticisms of all stripes and colour see Alberto Toscano, Fanaticism: On the Uses of an Idea, London & New York: Verso, 2010. Toscano's book is a counter-history and wonderful antidote to contemporary opinion concerning possibilities for a politics of "passionate and unconditional conviction."
(2) Gilles Deleuze, Difference and Repetition, trans. Paul Patton, London & New York: Continuum, 1997, pp. 36 - 37.
(3) See the entry "Devil" in Barbara Cassin, et al. eds., Dictionary of Untranslatables: A Philosophical Lexicon, trans. Steven Rendall, Christian Hubert, Jeffery Mehlman, Nathanael Stein and Michael Syrotinski, Princeton and Oxford: Princeton University Press, 2014, pp. 211 - 215.
(4) Gilles Deleuze, Difference and Repetition, p. 38.
(5) Gilles Deleuze, Difference and Repetition, p. 36.
(6) In Deleuze and Guattari's collaborative masterpiece A Thousand Plateaus the authors rename Deleuze's two types of space as "smooth space" and "striated space." See Gilles Deleuze and Felix Guattari, A Thousand Plateaus: Capitalism and Schizophrenia, trans. Brian Massumi, Minneapolis: University of Minnesota Press, 1987, especially pp. 474 - 500.
(7) As cited in Lana Lopesi, "The Moral Argument: A Review of 'Jealous Saboteurs.'"
http://www.pantograph-punch.com/post/review-jealous-saboteurs
(8) The concepts "inoperativity," "potentiality" and "whatever being" together go to make up Giorgio Agamben's ontological constellation. For a recent outing of these concepts see Giorgio Agamben, The Use of Bodies, trans. Adam Kotsko, Standford, California: Stanford University Press: 2016.
(9) Gilles Deleuze, "La Vie Comme une Oeuvre d'Art", interview with Didier Eribon in Le Nouvel Observateur 1138, 4 September 1986, as cited in Eleanor Kaufman, "Madness and Repetition: The Absence of Work in Deleuze, Foucault, and Jacques Martin" in Eleanor Kaufman and Kevin Jon Heller eds., Deleuze and Guattari: New Mappings in Politics, Philosophy, and Culture, Minneapolis & London: University of Minnesota Press, 1998, p. 235. Italics added.
(10) Gilles Deleuze, Difference and Repetition, p. 261. Italics in original.
(11) Gilles Deleuze, Difference and Repetition, p. 127.
(12) Gilles Deleuze, Difference and Repetition, p. 278.