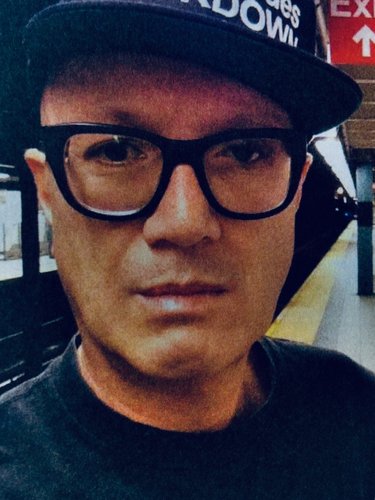 Terrence Handscomb – 12 March, 2019
The best artists do what they like and don't care about the social, political or cultural consequences because the best art and the best shows will remake those consequences in their own image and likeness.
Reading 'George Hubbard: The Hand that Rocked the Cradle', an essay by Anna-Marie White and Robert Leonard in Reading Room: Politics in Denial, issue 08.18 (September, 2018).
The most interesting thing about the last issue of Reading Room, the (almost) annual art and culture journal published by Auckland Art Gallery Toi o Tāmaki, is that the discussion comes nowhere near instantiating the very thing it interrogates: cultural insurgency. In line with its editorial theme, many of its accomplished essays speak in confident academic accents about the efficacy and failings of cultural insurgency; about the politics of denial; about the artistic erasure of certainty; but they do so in a tight bourgeois intellectual context that is far from being any of those things.
In other words, Reading Room is a patron-funded, proudly refereed intellectual journal, with a critical mandate and an intellectual and editorial mood that effectively points this mandate away from itself and always to something else. Reading Room never becomes the things it mandates, because its judicious editorial governance prevents it.
The interesting thing here—and it is common throughout institutional culture—is that Reading Room/08.18 does so without itself being tainted by the social, political and intellectual precariousness its essays so keenly champion in others. There is always the editorial luxury of distance that institutional judiciousness bestows and Reading Room is comfortable in this conceit. I call this condition a state of representation, but I own nothing of its philosophical originality.
✽
The best part of White and Leonard's essay tells of George Hubbard and his brilliant but exorcised 1993 exhibition proposal Brownie Points, which they exhume in 'George Hubbard: The Hand that Rocked the Cradle' (pp.30-53). They tell in well-researched detail of Hubbard's callow but fatal conflict with the sclerotic intractability of Auckland City Art Gallery and the interdictive Māori interests that ACAG sought to honour.
White and Leonard's discussion proffers insight into two often unacknowledged but opposing states: the intuition and cultural intelligence that can arise from unfettered artistic and curatorial freedom, and its institutional corralling and eventual occlusion. When the later speaks with the canonical voice of cultural authority, its messaging will be final and its intention is expected to remain unquestioned and untainted.
Hubbard's engagement with the art world was unusual, and for this reason it is extremely interesting. White and Leonard's case for Hubbard also tenders an insight into a cultural insurgency and a grasp of what could and should be, once the vestige of institutional authority has been ripped away and an open playing field is occupied by a free spirit. Ironically they do so in New Zealand's most academically self-conscious art journal.
Hubbard came to New Zealand art without the pretext nor the authority of an art education. His was a renegade mutiny (one that was uncaring, unruly, ingenuous, and sometimes clumsy) against the juridical subtexts of both Pākehā and Māori cultural law and the bicultural posturing that both enabled.
He had a cunning disrespect for New Zealand's cultural institutions. Like many street-level uprisings, his came with the clandestine shrewdness of the socially disenfranchised and their ancient cry for freedom. Sadly, it would be hubris that fed his expectation that the momentary free zone in which he could run wild was a wide-open space, and that his scamper would last forever. Hubbard's dash lasted for all of the two seconds it took Māori and Pākehā cultural authorities to double-take and form a retaliatory interdict to be served immediately.
Hubbard's failing was that he did not fully understand the complex manipulations and duplicities that abound when opposing states of representation compete for dominance in a public domain. This is something that is usually learned late after defeat and psychological injury have left deep wounds. Hubbard was like a deer in the headlights and the rest was roadkill.
✽

This is the parable of George Hubbard and his brilliant but exorcised 1993 Auckland exhibition proposal Brownie Points, which White and Leonard exhume. Their essay tells of Hubbard's unfledged but fatal conflict with the institutional uncertainty of Auckland City Art Gallery with respect to the Māori cultural interests that it sought to honour.
In the end Hubbard ran away. His debilitating capitulation to ACAG and the subsequent devastation and paralysis of his spirit is a sad lesson for all of us. If you are thinking of killing Goliath, don't wander onto the battlefield with no more than a slingshot. Come with guns!
'George Hubbard' is an openly critical historiographic narrative of this (once) young Māori curator who was active in the late 1980s and first half of the 1990s. Hubbard's shows were embraced by many public art museums for their biracial inclusiveness; but equally rejected for exactly the same reason by a Māori hierarchy of cultural elites who were determined to control their own cultural narratives. Māori would tell their own story, and a culturally illiterate Hubbard would not be their voice.
In 1993 Hubbard pitched an exhibition to Auckland City Art Gallery with the hard-boiled, but hilariously provocative title Brownie Points (Bi-Culturalism and its Consequences). After protracted curatorial compromises and institutional bullying in which ACAG was determined to represent Māori in such a way that would not ruffle any feathers, the controversial but terminally refined show eventually opened in October 1995 with the heavily sanitised title Korurangi: New Maori Art.
The result was that Hubbard's Korurangi experience killed his spirit. His encounter with a curatorial force that did not respect his loosely expressed need for freedom, ended with him being bullied into submission, a first for him—perhaps his borstal days were different.
Hubbard's naïvely pitched Brownie Points with its sardonic title, pissed straight on the floor of New Zealand's newly conceived but highly controlled bicultural lore, an authorised messaging that told the world how biculturalism would be understood in the public domain. But this sort of authority would not tolerate Hubbard's street-level chortles. With Brownie Points Hubbard's message was clear: it's a mess on both sides of the bicultural divide and let's not pretend otherwise.
One big problem for Hubbard was that his Māoriness was not Māori enough for the cultural elites who controlled the semiotics of representation on both sides of a burgeoning bicultural partnership. To some Māori elites, Hubbard's representations were inauthentic.
White and Leonard quote Māori artist, writer and educator Professor Robert Jahnke (Ngāi Taharora, Te Whānau a Iritekura, Te Whānau a Rakairoa o Ngāti Porou):
"Hubbard does not speak for Maori people he merely speaks about them. … In order to speak for Maori one must earn the right. This right is not self-imposed but is decreed through genealogy, through acknowledgement or through deed. Even Pakeha may speak for Maori but it is a right conferred by Maori not Pakeha." (p.37)
Jahnke's comments followed Hubbard's all-Māori Artspace Auckland show Choice (1990). Jahnke was a persistent Hubbard critic.
However Hubbard never attempted to 'represent' Māori per se. This was not his mandate and he resisted every expectation that he should do so. His own Māori identity, which not unlike his sexuality, was ambiguous and at times fraught with uncertainty and defiance. In his shows Hubbard wanted to represent Māori who were like him.
In the gap between Brownie Points and Korurangi Hubbard was pushed to rename the show and justify why he wanted to include some artists that could be deemed unworthy. This was a cynical move and by naming the politics of his new title Untitled: An Exhibition of Contemporary Maori Art expressed his simmering recalcitrance. White and Leonard quote Hubbard's unashamedly autobiographical reasons for selecting artists:
"Some of the proposed artists in Untitled have grown up outside of the culture and have returned to find a place for themselves, some have been raised by Pakeha unaware that they have a Maori side to their family, some have Pakeha features and are not physically accepted as Maori, while others have a small percentage of Maori blood which is considered too insignificant to qualify them as Maori. Some of the Maori in Untitled simply do not fit in!" (p.41).
ACAG legislated against Hubbard with a "Guest Curatorial Agreement," which in effect meant he would sign away most of his power and all of his freedom. "The Gallery had final say" as White and Leonard put it. (p.40)
As I see it, Hubbard's principle mandate was his will to freedom, but New Zealand's bicultural identity politics was where he pointed his curatorial attention. His focus on New Zealand's burgeoning biculturalism was a cunning exploration of its duplicitous and clumsy rawness. He did this extremely well, but not everyone liked it. Māori elites saw Hubbard's dilution of what it meant to be a Māori artist a threat to their messaging. Hubbard seemed to lower their requirements of what was needed to represent contemporary Māori in Aotearoa New Zealand's premier cultural milieu, and this was his eventual undoing.
Hubbard was a sort of Māori Dalit (ill-born "untouchable"—he was the illegitimate son of a young Māori woman who gave birth in a Salvation Army home. Soon after his birth he was spirited away into white middle-class adoption). His personal history drove his defiance and the odd psychological mix of alacrity and deep sarcasm that characterised everything he did. He could be very funny. Hubbard's ideas for shows often entailed an experimental astuteness that usually involved hilariously sardonic dalliances and sarcastic tiles. For the art world insiders at ACAG this would be too much.
The cautious change of Pākehā attitudes towards biculturalism and the reinstatement of a proud Māori identity with its deep spiritual values, was no trivial matter. If Hubbard's idolatrous ideas were to spill over into a 'serious' exhibition of Māori art, it would voice a bicultural narrative that would touch sensitive nerves on both sides of the cultural divide. Brownie Points' legislative reworking under the title Untitled and its final institutional transmogrification into Korurangi would prevent Hubbard's semi-underground insurgency from burning the whole house down if left unchecked. In other words, Brownie Points' failure signalled to anyone who cared that Hubbard's wild run would not change anything.
It didn't help that at the time the ACAG curatorial team was trying to exorcise Hubbard from Brownie Points, Wellington City Art Gallery director Paula Savage commissioned him to organise the provocative ground-breaking exhibition Stop Making Sense. In this exhibition Hubbard teamed up Māori and Pākehā artists into often unlikely pairings with each being commissioned to make a work of art for the show. The resulting art was provocative to say the least. The show precipitated a cultural uneasiness for some and was seen as a hilarious intervention for others. Stop Making Sense was a localised Unbehagen in der Kultur, as Freud once put it, of the conflict between the desire for individuality and the expectation of compliance that society presumes. Without doubt Stop Making Sense was a shit-stirring challenge, but despite its unruly artist pairings the show made real a deep seated uneasiness and unholy Disquiet in the Culture.
Hubbard could be the manipulative stirrer that New Zealand art has always needed, and will always need. Anything that would piss-take the self-conscious earnestness and representational conceit that orders New Zealand art, was a Hubbard triumph. It also didn't help that Stop Making Sense was a well-timed booted kick to ACAG's sanitising of Brownie Points (Savage was a Hubbard fan) because it highlighted the institutional animosities and conflicts of egos between Wellington and Auckland that had been fuming away since Robert Leonard and National Art Gallery in Wellington took Headlands to Australia in 1992 without properly consulting Auckland. Auckland's problem was that Headlands enabled the still infamous Walters iconoclasm, the malice of which has not yet abated in this part of the country—its memory still angers and its ghosts have not yet been properly exorcised.
There is a palpable gap between what is said and how it is said. Hubbard's voice was a revolutionary cry of the renegade, which in New Zealand art meant it would inevitably have to pass through the dense filters of institutional containment, before it could be taken seriously. New Zealand art is mainly supported by private money from patrons. Couple this buying power with the institutional systems that filter the flow (it's actually a trickle) of public funds, renegade voices like Hubbard's will eventually be muted. Hubbard was the living breathing body of the outsider who naïvely believed his expectation of freedom would always be met. In this respect there is almost no distinction between artists and curators, who when they are both cut from the same cloth can do great things. Hubbard worked like artists do: it's all about how it looks and how it feels at the moment of the making.
Hubbard was amongst the artists and curators who will always capture the public imagination by doing their own thing and appearing to get away with it. Always lurking in the shadows are the institutional mandates of insiders who have other interests to represent. Real freedom is rarely tolerated for too long unless it can be extrinsically represented and thereby contained.
The trouble with large self-conscious institutional ventures like Korurangi is that good ideas get the life sucked out of them by the bureaucratic need to justify everything, on paper and in committee. Cover your arse before you commit. Hubbard never curated this way and his process made him light enough to fly. But the Leviathan that Korurangi became meant the extra weight was too much and Hubbard crashed to earth and burned.
The institutional will to justify everything always leads to an excess of representation that gets mistaken for the real thing. With Korurangi Hubbard lost his real-thing-mojo.
When representation replaces pure presentation, what you end up with is a story and a state that is always in excess of that which is merely presented. Artists present, Hubbard presents, institutions represent.
To represent Māori and to articulate exactly what contemporary Māori art was (nobody knew back then but they all had their own ideas) and to represent biculturalism at a crucial time and get it right, was a tough call for any Aotearoa New Zealand cultural institution. ACAG came away from Korurangi completely frazzled. They hid their collateral damage but it was their own fault. They should have let Hubbard run with it and swept away the pieces of fake history that that would have fluttered to earth after the explosion. They could have waited out the time it took for the inevitable fragments of cultural truth to emerge from burnt earth, and then owned them and thereby demonstrate to the world that they were a kick-arse concern. Instead they did what they always do: they owned a curatorial process that was flawed from the beginning. You can't orchestrate a revolution then call it responsible custodianship. Less so when public funding is involved.
Rather than contain Hubbard, ACAG should have let him have his head and they would have probably ended up with the most honest show they have ever done. The bottom line is that the best contemporary 'Māori art' will have to flourish in an art world in which both Māori and Pākehā play only a small part. This has a profound bearing upon what it means for Māori to make art in a brave new world. Michael Parekowhai's fabled piano, He Kōrero Pūrākau mō te Awanui o te Motu: Story of a New Zealand River (2011)—the one that went to Venice, the one that Te Papa paid a scandalous $1.5M for—was carved by a Pākehā artisan. Should this truth be celebrated or concealed?
The best artists do what they like and don't care about the social, political or cultural consequences because the best art and the best shows will remake those consequences in their own image and likeness.
Real breakthroughs in art are chaotic, and when they occur no one knows what the hell is going on. Moreover, if an unmediated and unrepresentable state of pure presentation were to appear in art, its force would deconstruct any representational excess that tried to make sense of it. Scandal would be the only thing that could patch over the semiotic wounds in the sovereign discourse. No one could write about that sort of art because they would have no way to represent it. Apart from professional vanity, why would anyone want to? Let history make sense of it, because new representations will always appear and new visual vocabularies will replace old ones and all will be good in the world.
✽
Early on, Hubbard's arts coming of age percolated through his social engagement with the visually loud but socially snooty apprentice caste otherwise known as "the hairdressers." These were the colourful representatives of an uneducated socio-economic casting that suited Hubbard's ideas of origins.
This was Wellington in the late 1980s when residual punk and a newer street-level couture informed sartorial expression; which when coupled with big outrageously coiffured hair, became the standard uniform of the cool people. This was the short-lived age of the hairdressers but their parties were the places where they met the commoners. Educated cool straight kids and marginal art-farts like Hubbard would be tolerated if their hair was good and they met the dress code. Everyone went to select gay bars (there was only one, the tiny Bamboo Bar in the Oaks complex) and clubs where the hilarious sexual theatricality of leather caps, chaps and jockstraps was new.
These places were the most fun because they were places where social marginality was celebrated and where Hubbard felt accepted. 'Queer' signified pride and this newly re-appropriated locution was quickly injected into quotidian vocabularies. This was a hubristic time of hard-core sexual expression hastened by a desperate intensity that would portend the AIDS cull that quickly put a stop to everything.
I first saw Hubbard at such a party. He was dressed like a street-level-black-momma-Bess-without-Porgy, but with punky details and a lot of makeup. He looked straight through me, but we all did that.
Eventually we formed an arts alliance that would last until he did a runner. I could be a tough date but George didn't care because he could be one too. His alacrity could cut through shit. I suspect we gelled because we both didn't give a fuck about what anyone thought, but we actually did and kept it quiet.
It's been ages since Brownie Points and Korurangi and we haven't seen much from Hubbard since. Maybe he will have a second run. Who knows? But if all this reads like an obituary it is because it is highly unlikely that Jedi George could ever recall the force.
Terrence Handscomb