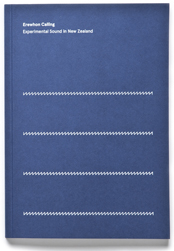 Tim Gentles – 28 March, 2013
In many ways, this collection tells the story of the interactions between the sonic arts and other creative practices and institutions, whether this pertains to state bureaucracy in the case of the thorny issue of arts funding, alliances between sonic and art practices and the institutions that support both, or the complex interactions between New Zealand's underground music and the international indie underground.
Erewhon Calling: Experimental Sound in New Zealand
Edited by Bruce Russell
Over fifty contributions of essays or page works
Designed by Richard Francis
Illustrated, 192 pp
RRP $45
Published by Audio Foundation and CMR 2012
Erewhon Calling is a lovingly assembled and lovelier to hold collection of essays and artwork on 'Experimental Sound in New Zealand', edited by Bruce Russell and published to limited but highly enthusiastic fanfare by the Audio Foundation and CMR towards the end of last year. Its proposal is ambitious to say the least, attempting to document New Zealand's rich and largely underappreciated history of sonic experimentation, particularly when one considers how vexed and contentious the word 'experimental' can be in relation to sound/music, the complexities of which are drawn out over the course of the collection. The book's documentation of this history then is necessarily partial, providing glimpses, in a variety of formats, of the groupings, particular artists, and polemics that together constitute the notion that there is, or has been, a distinct experimental sound practice in New Zealand.
Russell's introduction establishes the collection's repeated emphasis on the varying ways New Zealand's experimental sound practices have been shaped by the country's isolation. Cultural production in New Zealand, particularly underground cultural production, is understood by Russell in terms of a centre-periphery relationship, with New Zealand as "the end of the earth" and "next to nowhere". Even the title itself, Russell notes, is grounded in an awareness of New Zealand's peripheral status, as an ironic reversal of the title of the Clash's 1979 album London Calling ("the broadcasting of culture from one of the world's metropolitan centres to the peripheries of the globe"), juxtaposed with Samuel Butler's satirical 1872 novel, Erewhon: or, Over the Range, about a foreign country adjoining New Zealand that is quite literally at the end of the earth.
Russell's introduction also sketches a certain kind of persona for the New Zealand experimental musician/sonic artist, who, inscribed by their outsider status, he describes collectively as "a bunch of antipodean misfits and malcontents". The New Zealand sonic experimenter is thus placed within an oppositional narrative, where, isolated from the rest of the world, these misfits and malcontents are also alienated from the culture of their home country, and yet, as this collection makes clear, the story of New Zealand experimental music's relationship with the rest of the world isn't quite so simple.
Instead, the wide scope of Erewhon Calling, which features contributions from over 50 writers, musicians and artists, instils in the reader a sense of the diversity of experimental sonic practice in New Zealand. Indeed, in many ways, the collection tells the story of the interactions between the sonic arts and other creative practices and institutions, whether this pertains to state bureaucracy in the case of the thorny issue of arts funding, alliances between sonic and art practices and the institutions that support both, or the complex interactions between New Zealand's underground music and the international indie underground.
Su Ballard's chapter on experimental sound performances in NZ's public art galleries is particularly insightful in this regard, describing the tensions that inhere between the static space of the gallery and the dynamism of a live music performance. Interestingly, she chooses to contextualise this tension in terms of the unique history of listening to music in the colonies, which she suggests is bound up with the desire to prove New Zealand's worth on the world cultural stage. Alastair Galbraith's much more personal account of his own creative process treads some similar ground as he discusses his reliance on grants and art institutions, as well as describing the financial precarity eking out a living in this way entails. His personal history is revealed to be a story about institutions too, and both his and Ballard's essays are apt expressions of a common thread running through this collection: the institutional and cultural marginality of experimental sound practice in New Zealand and its resultant negotiations with the other cultural practices that sustain it.
The self-image of New Zealand sonic experimentalists as "misfits and malcontents" is further complicated by Jon Bywater's insightful chapter on the social implications of taste, particularly as it relates to the difficult music that forms the subject of this book. In it, Bywater notes the forms of sociality that are embedded in New Zealand experimental music and the values that are sustained by the ways in which recordings and mythologies circulate within and outside of this community. The simplistic narrative of the isolated and alienated experimental musician is challenged here by Bywater's claim that New Zealand's burgeoning experimental music scene of the early 90s managed to gain a foothold "in a transnational economy of independent artists and labels" in part because of the ways in which the country's "geographical isolation and cultural difference lend it an exotic appeal." In other words, it is only by disavowing local scenes and communities (by tapping into an international cultural elite) that the specificity of New Zealand experimental music can be appreciated. His chapter ends with an equally insightful and not unrelated questioning of the persistence of oppositionality in understandings of difficult music, suggesting that over time avant-garde and experimental music has solidified into a genre (and, I would argue, locally it has settled into its own comfortable tradition), and as such must be considered "a ghost of vanguardism".
There is a distinct sense that in examining local experimental sound practices of the kind under the remit of this book, we may be dealing with a cultural moment now of the past, with something already foreclosed. We may also wish to ask what kind of ideas of community sustain this book, and whether these ideas, indeed these communities, are now obsolete. The various essays and anecdotes that make up Erewhon Calling exhibit a particularly fraught relationship with locality and community, and some of the chapters seem, at first glance, to disavow the idea of community altogether. Andrew Scott's chapter vividly recalls an economically depressed 1990s Auckland defined by alienation, unfriendliness and rejection, where "people arrived alone and left alone". Dugal McKinnon writes in his about the miscommunications that characterise the relationship between experimental musicians, sonic artists and composers, lamenting the lack of discussion between these communities in favour of "the silence of the great divide". Dan Vallor's chapter on Peter King's DIY lathe record operation suggests a degree of prescience on the part of 1990s underground music makers in imagining the transnational undergrounds of today, with Campbell Kneale quoted as saying, "Peter King's enterprise seemed like a kind of Internet before the internet". While Stevie Kaye's recollection of a mid-2000s resurgence in Auckland's experimental music scene, centred around the Wine Cellar, describes a small community inevitably beset by fragmentation and a loss of energy.
A productive tension may be at work here, rooted in a complex and contradictory approach to national identity, between expressions of community and their dissipation, such that a community is nonetheless constituted despite its identity being tied up with the absence of community. Surveying the accounts presented here of the recent history of experimental sound in New Zealand calls to mind Stephen Turner's suggestion that as a colony, New Zealand identity is uniquely tied to global economic power relations. His essay 'Compulsory Nationalism' argues that the development of a national identity is so important, and in fact, enforced, in colonial societies because this identity is intertwined with its economic development, with the project, that is, of building a viable nation-state (1.). As distant as New Zealand's tradition of sonic experimentalism is from 'official culture' (although, given the extent to which it receives support from official institutions, this is hardly self-evident), Erewhon Calling nonetheless reveals a culturally anxious history. This history is defined by a precarity at once financial and social, where the limitations of the local are all too keenly felt by its participants, and engagements with international cultural networks are rare and tentative. One wonders though how much longer such an anxious colonial identity can continue to define New Zealand's cultural production. The globalised, flattened fields of cultural exchange afforded by the Internet mean that the New Zealand experimental underground's disavowal of local community is slowly becoming something more like the norm. Likewise, a now seemingly perpetual state of global economic precarity ensures that spaces of cross-disciplinary interaction remain open. The main thing that has changed though, is that the idealisation of our cultural isolation so readily mythologised by Bruce Russell in Erewhon Calling's introduction is now impossible to uphold.
Tim Gentles
(1.) Stephen Turner, 'Compulsory Nationalism,' Moving Worlds: A Journal of Transcultural Writings 8.2 (2008), 7-19.