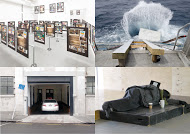 Scott Hamilton – 14 October, 2014
If we recognise the seriousness with which Kalisolaite 'Uhila has performed Mo'ui tukuhausia, and remember the effort he has given to learning and displaying the survival skills of the haua, then we can refuse the equation of homelessness and artlessness made by many of the viewers of Campbell Live. Instead of treating the homeless person and the artist as members of different species, we can recognise the qualities that they often share.
Auckland
Simon Denny, Maddie Leach, Luke Willis Thompson, Kalisolaite 'Uhila
The Walters Prize 2014
12 July - 12 October 2014
For the last three months Kalisolaite 'Uhila has been homeless in central Auckland. Dressed in blue overalls and a variety of dark coats and shod in gumboots, carrying about a rolled-up mattress and a couple of bulging holey bags, he has become a familiar site on the pavements of Queen Street and its tributaries, in Albert Park, and at the City Mission on Hobson Street.
In 2012 'Uhila camped for a fortnight on the grounds of Pakuranga's Te Tuhi gallery, in a performance he called Mo'ui tukuhausia, or Living Homeless. This year the Walters Prize selection jury - via Auckland Art Gallery - invited 'Uhila to reprise and extend the performance, and gave him a room to use as his base. Although he has preferred to wander Auckland's streets and parkland rather than remain indoors, 'Uhila has stored some of his possessions in the gallery, and has set up a long white wall there where visitors can comment on his work.
Mo'ui tukuhausia is one of a series of clever and provocative performances put on by 'Uhila in recent years. In 2011, in central Auckland's Aotea Square, he shared a sty with a piglet he named 'the Colonist' for eight smelly days; in 2012, during a show by the Tongan-New Zealand artists' collective No'o Fakataha at Mangere, he pretended to cook himself on an 'umu' made with stones, wood, and dry ice; in the same year, on Wellington's waterfront, he spent four days and nights inside a sealed crate, living on coconuts and shitting in a bucket, as he re-enacted the journeys of Tongan stowaways to Niu Sila. Some of 'Uhila's performances have lacked audiences: Family Tree, for example, saw the artist walk alone to an obscure park in suburban Auckland, climb the tallest tree in the park, and fall out of that tree, hitting as many branches as possible on the way down.
Mo'ui tukuhausia may have been one of the four finalist exhibtions for this year's Walters Prize, but it didn't win, and 'Uhila's performance was criticised by some art critics and by many members of the public.
In an article comparing the Walters finalists, EyeContact editor John Hurrell argued that Mo'ui tukuhausia did not deserve to win the prize, because it lacked the 'complex multiple resonances of its competitors'. Hurrell acknowledged that 'Uhila's performance expressed a 'moral indignation' at the plight of the homeless, but felt that it didn't offer much else to art audiences. (1)
After TV3's Campbell Live ran a report on Mo'ui tukuhausia, many viewers posted complaints on the show's facebook page. If John Hurrell felt that 'Uhila's performance was a simplistic work of art, many viewers of the Campbell Live wondered whether it was art at all. A viewer signing herself 'Daisy Catt' expressed a common sentiment when she argued that, if Mo'ui tukuhausia was art, then 'all homeless people are artists'. 'Morris West' claimed that 'Uhila was not a performance artist but a 'piss artist' playing a confidence trick on a credulous cultural establishment.
Many of the unhappy viewers of Campbell Live associated homelessness with a set of behaviours - substance abuse, loafing, fighting - that they considered inimical to art, and to other worthwhile pursuits. By becoming homeless 'Uhila had, they reckoned, abandoned any hope of making art.
Kalisoliate 'Uhila would not have been surprised by the negative comments his appearance on Campbell Live provoked. When he performed Mo'ui tukuhausia for the first time at Te Tuhi gallery he often suffered aggressive rejection. Some visitors to the gallery wrote complaints about 'Uhila's presence there; others expressed themselves more directly, by swearing at and spitting on the artist.
'Uhila's unwillingness to explain Mo'ui tukuhausia has perhaps contributed to misunderstandings of the work. The artist has seemed very reluctant to engage with the journalists who have hunted him through the streets of central Auckland over the past three months. His statements to the Campbell show were terse and mostly unrevealing.
In these notes I want to outline an interpretation of Kalisoliate 'Uhila's art in general, and of Mo'ui Tukuhausia in particular. I don't claim that mine is the only or most valid way of understanding 'Uhila; I only think that it is preferable to the aggressive incomprehension that Mo'ui tukuhausia has too often provoked. (2)
Sia'atoutai and its rebels
During the first half of this year, when he was preparing to take up his residency on the wintry streets of Auckland, Kalisolaite 'Uhila lived at Sia'atoutai Theological College, on the tropical island of Tongatapu, where his wife was studying.
Sia'atoutai sits in the Tongatapuan bush, a safe distance from the nightclubs and fried chicken joints of Nuku'alofa. Its campus is divided into seven villages, which are named after the seven churches of the Book of Revelations. Chapels, lecture halls, and dormitories squat under old trees, and look onto a huge circular field as smooth as a bowling green. It is also a stronghold of the Free Wesleyan Church, one of the most powerful and conservative institutions in Tonga. Founded in the 1880s, when King Tupou I tired of meddlesome European missionaries, the church was soon sending its own emissaries and propaganda to pagan corners of the Pacific. In Melanesia and in Outlier Polynesia it was often Tongans, rather than palangi, who brought the word of Jehovah to native peoples. (3) Today Sia'atoutai remains the base from which ministers and missionaries depart to evangelise and monitor both their countryfolk and the peoples of the wider world. (4)
Like many institutions set up to propagate an orthodoxy, though, Sia'atoutai has often bred heretics.
In the 1970s, a thin faith healer and Sia'atoutai graduate named Senituli Koloi led a revolt against the Free Wesleyan Church. Convinced that church buildings had imprisoned Christianity, Koloi wandered through the Tongan countryside preaching in the open air against feasting, drinking, decadent ministers, and the pursuit of worldly power. Like the Cathar heretics of medieval Europe, he believed that self-denial brings humans closer to God, and undertook long fasts. By the time he died in 1980, after refusing food for more than two weeks, Koloi had convinced thousands of Tongans to reject their religious establishment.
Salesi Finau is another famous Sia'atoutai rebel. A former lecturer at the school, Finau summed up his ideas in Jesus the Haua: Diaspora Theology of a Tongan, a playful and provocative little book published in 2008. (6) As Finau explains to his readers, 'haua' is a derogatory Tongan word meaning 'wanderer' or 'outsider':
The haua stands outside or drops off from the social ranking map…The haua are excluded…They operate in various groups…The haua can beg for money, to buy food, drugs, or alcohol. They are mobile…
Because they are uncontaminated by financial ambition and exempt from the exhausting rituals of polite society, haua are able to empathise with the whole of humanity, in the way that a minister or businessman or politician cannot. Finau believes that, by breaking bread with the marginalised and expressing his'unity with sinners, Jesus made himself a haua.
Finau knows that his equation of the Son of God with society's outcasts upsets many Tongans:
The traditional Tongan ranking system identifies Jesus with the majestic status of Tu'i (king) or e'iki (lord, noble, chief)…The haua image of Jesus is in conflict [with that]…I am not conforming to Tongan social and Christian structures of respect…
Like Senituli Koloi before him, Salesi Finau insists that Christians must reject the hierarchies and priorities of established society if they are to achieve godliness. Finau's book was published by Massey University Press, and its arguments are surely as relevant to Niu Sila, as well as to Tonga. In this country, as well as in the Friendly Islands, large groups of people - the very poor, the homeless, illegal immigrants, the mentally ill, alcoholics, drug addicts - have always been treated as haua. It is hard to read Finau's arguments without remembering RAK Mason's great poem 'On the Swag', which tried to rescue the itinerant labourer-beggar of interwar New Zealand from condescension:
His body doubled
under the pack
that sprawls untidily
on his old back
the cold wet dead-beat
plods up the track…
'Let the fruit be plucked
and the cake be iced,
the bed be snug
and the wine be spiced
in the old cove's night-cap:
for this is Christ.'
Becoming haua
I don't know whether Kalisoliate 'Uhila drank kava with Salesi Finau or one of his co-thinkers during his stay at Sia'toutai College, and whether he has read Jesus the Haua. It seems to me, though, that 'Uhila's work in general, and Mo'ui tukuhausia in particular, can be understood with the help of Finau's rebellious theology.
To understand the extent of the parallels between Finau's ideas and 'Uhila's work, we have to consider the role that art has tended to play in Tongan society.
Traditionally, Tongan carvers, dancers, musicians, poets, and ngatu makers have often exhibited their work at important social occasions, in front of powerful figures like royals and chiefs and ministers, and have sought to impress these audiences with intricate craftwork. Perhaps not coincidentally, the subject matter of Tongan artists has tended to be idealised, rather than realistic. Many poems praise the beauty of women or landscapes; tapa are often covered with symbols of national pride, like royal lions or fragrant flowers. (5)
Not surprisingly, scholars of Tongan art have emphasised its social function, its intricate forms, and its celebration of beauty. The late Futa Helu, who was famous for his knowledge of Tongan as well as European cultural tradition, noted that the 'master artists' of his country used 'perfect proportion' and 'lovely rhythm' to create work that was appreciated by their community as 'faka'ofo'ofa' (beautiful). (6)
It seems to me that Kalisoliate 'Uhila's art has little time for proportion, rhythm, or beauty. With their vast length and lack of obvious structure, his performances contrast with carefully constructed Tongan dances like the lakalaka and the me'etupaki. 'Uhila's subject matter is as heretical as his forms. Again and again, he has presented his audiences with marginal and despised characters: the stowaway, sweating and shitting in a cargo hold; the prodigal son, living far from home, amidst the filth of pigs; the slave being turned into a meal on an umu tangata; and the homeless man wandering between central Auckland's steel and glass monuments to surplus value and alienation.
Like Salesi Finau's theology, Kalisoliate 'Uhila's artworks rejects convention and celebrates the haua. Where Finau dismisses the rituals and preoccupations of mainstream Tongan Chrisitianity, 'Uhila bypasses the forms and subject matter of traditional Tongan art. (7)
Fellow rebels
Of course, 'Uhila Kalisoliate is not some isolated, instinctive rebel. He has learned from Western modernist and postmodernist art, and he has co-thinkers and predecessors in Tonga. While he was working towards a Bachelor of Visual Arts degree at AUT University 'Uhila became interested in Joseph Beuys, the anthroposophist who liked to declare that 'everyone can be an artist'. In the name of art, Beuys could share a cage with a coyote, and place lumps of animal fat in a gallery. Beuys' curious mixture of provocation and calm can be detected in many of 'Uhila's performances.
'Uhila's iconoclasm is shared by a number of other contemporary Tongan artists, like the sculptor and ngatu maker Visesio Siasau, who has upset audiences by putting pagan gods like Tangaloa on crosses, and by painting dollar signs on Sisu Kalaise. The artists of Nuku'alofa's Seleka Club, who spend their evenings drinking kava from a toilet bowl and making Picassoid portraits of their home town's more eccentric inhabitants, also share 'Uhila's irreverence. (8)
It can be argued, as well, that Tonga has always been home to artists whose work has been made and shared away from the eyes and ears of political and religious establishments. The anthropologist Wendy Pond has spent decades collecting, translating and analysing some of the subversive songs that have been sung out of the earshot of the country's rulers. In a famous essay Pond discussed the kava songs of Kitione Mamata, who lived in the remote Niuan archipelago and described, with empathy but not pity, the hard work and poverty of its people. Mamata's songs would make a fine soundtrack to Kalisolaite 'Uhila's performances. (9)
Survival skills
In place of the careful patterning and regard for symmetry that many Tongan artists have valued, 'Uhila has emphasised what some sociologists call the 'survival skills' of marginalised people like the homeless. 'Uhila has learned, through observation and practice, how to sleep in the rough without being roughed up, how to beg without arousing fear as well as pity, how to harvest food and shelter from rubbish bins and gutters, and how to make and sustain friendships with other homeless people. He considers these skills as important and as hard-earned as anything he learned at art school.
While performing Mo'ui tukuhausia, 'Uhila has often tried to draw attention to the skills that the homeless use to survive by moving very slowly and silently. He can spend a quarter of an hour mutely exploring a rubbish bin, or rolling a cigarette, or unrolling a mattress.
We might compare 'Uhila's deliberate slowness with the tactics of the Scottish artist Douglas Gordon, who likes to make his audiences watch slowed-down versions of famous movies. Gordon's Twenty-four Hour Psycho was intended to make its viewers aware of the details - some of them trivial, some of them suddenly significant - that are overlooked when Hitchcock's masterpiece plays at its normal pace. Like Gordon, 'Uhila wants us to improve our attention by slowing down his art.
Artists and haua
If we understand Kalisoliate 'Uhila's work as a challenge to the conventions of traditional Tongan art and an attempt to dignify the marginalised and despised people Tongans call haua, then we can counter some of the charges that have been made against Mo'ui tukuhausia.
John Hurrell complained that Mo'ui tukuhausia lacked complexity, but if we consider 'Uhila's performance in a Tongan context we can see its many and radical implications. Like Duchamp's Readymades a century ago, Mo'ui tukuhausia is an apparently simple artwork that disguises years of intense thought and represents a response to an entire art tradition.
If we recognise the seriousness with which Kalisolaite 'Uhila has performed Mo'ui tukuhausia, and remember the effort he has given to learning and displaying the survival skills of the haua, then we can refuse the equation of homelessness and artlessness made by many of the viewers of Campbell Live. Instead of treating the homeless person and the artist as members of different species, we can recognise the qualities - ingenuity, eccentricity, pride, endurance - that they often share. Perhaps the similarities between 'Uhila's art and the everyday lives of the homeless should make us think in new, more positive ways about Auckland's haua, rather than condemn 'Uhila.
Scott Hamilton
(1) John Hurrell, 'Pondering the Walters Prize 2014', EyeContact, 30th of July 2014, at http://eyecontactsite.com/2014/07/looking-at-the-walters-prize
(2) Nina Tonga has published a very interesting study of Mo'ui Tukuhausia called 'Roaming All Levels' for the Te Papa website at http://www.arts.tepapa.govt.nz/off-the-wall/7959/roaming-all-levels The facebook thread which featured the aforementioned attacks on 'Uhila is preserved in all its silliness at https://www.facebook.com/CampbellLiveNZ/posts/10154581948935226
(3) In New Guinea the Free Wesleyan Church founded its own colonies, complete with plantations and schools as well as churches; in Ontong Java its representatives banned the local religion and punished recalcitrant pagans so vigorously that they were reprimanded even by palangi missionaries.
(4) A friend of mine trained at the school before travelling to Sudan and Uganda, where he converted witchdoctors and sung them Tongan hymns.
(5) Eric Shumway's essay 'The Eulogistic Function of the Tongan Poet', which was published in Pacific Studies in 1977 and is online at https://ojs.lib.byu.edu/spc/index.php/PacificStudies/article/view/8962/8611, goes so far as to argue that the 'primary responsibility' of Tongan poets has been to 'glorify and aggrandise' the country's rulers.
(6) Helu makes his remarks in the long late text Art of the Community, which was written for Unesco and is online at http://portal.unesco.org/culture/en/files/29489/11347324813community_art.pdf/community_art.pdf
(7) Kolokesa Mahina-Tuai has argued persuasively that palangi critics and curators often use the term 'traditional' in a patronising and discriminatory manner when they discuss art from Tonga and other parts of the Pacific. Artists who work in long-established ways - women who make ngatu to display and gift at important social occasions, for example - are often negatively contrasted with artists who show the influence of modernism and postmodernism and show their work in galleries. The first type of artist is held to be 'traditional', and therefore conservative and unimaginative; the second is considered 'contemporary', and therefore innovative and creative. I believe that there are big differences - stylistic, institutional, conceptual - between Tongan artists working in long-established contexts, like the women who make and gift ngatu in the country's villages, and self-consciously iconoclastic, gallery-oriented artists like Kalisolaite 'Uhila or Visesio Siasau, and I have used the term 'traditional' in these notes to try to indicate this difference. I don't mean the term in a patronising or derogatory way.
(8) I have blogged about the Seleka Club's adventures at http://readingthemaps.blogspot.co.nz/2013/12/why-tevita-latu-is-new-lou-reed.html and http://readingthemaps.blogspot.co.nz/2014/07/through-portal-to-tongatapu.html#mce_temp_url# and described some of Siasau's extraordinary sculptures at http://readingthemaps.blogspot.co.nz/2014/01/burning-gods-letter-to-visesio-siasau.html
(9) Wendy Pond's essay 'Wry Comment from the Outback: Songs of Protest from the Niua Islands, Tonga' was published in Oral Tradition in 1990, and is online at http://journal.oraltradition.org/files/articles/5ii-iii/4_pond.pdf. Pond and Garth Rogers included the lyrics of several of Kitione Mamata's songs in their fascinating book The Fire Has Jumped: eyewitness accounts of the eruption and evacuation of Niuafo'ou, Tonga, which was published by the University of the South Pacific in 1986.
This is the fifth in a series of forums on aspects of The Walters Prize 2014.