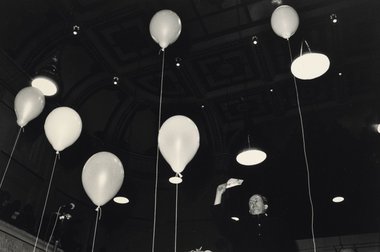 Peter Ireland – 5 August, 2022
In the early days of the Te Papa project a document described the National Art Gallery and Museum as "fuddy duddy", in exactly the way medieval art had been described as "gothic" and one group of artists early in the 20th century as "fauves": wild men—for the same reasons. Well, in Luit's decade there were, for example, more national and international photography shows staged than in the quarter century of Te Papa's operation to date.
The intriguing name of one Luit Bieringa started surfacing in the NZ art world in the early 1970s—clearly a name not of Anglo-Saxon origin, a rarity in the small, closeted world of art administration in those days. He fetched up in Palmerston North in 1971, following the director of the then Manawatu Art Gallery, Ian North. Along with Bill Milbank at Whanganui's Sarjeant and Ron O'Reilly at the Govett-Brewster, Bieringa saw a flourishing series of touring shows that challenged the inertia of the main centres. O'Reilly, perhaps being an older man, was not greatly interested in the emerging medium of photography but Milbank and Bieringa were early and consistent promoters, the latter being one of the generators of the seminal Active Eye show of 1975.
About this time I had some contact with Luit, but did not actually meet him until 1978 when I went to Palmy with Jeffrey Harris to see the latter's first Luit-organised survey (also seen later at the Sarjeant and the Dowse). After that Luit and I had further contact, mostly to do with photographic matters. The following year he moved to Wellington to become director of the then pretty moribund National Art Gallery. As one example of the situation he found, the annual fund allocated by the Department of Internal Affairs available for purchase of art works was a mere $6,000, and—strictly legally—it was tagged for the repatriation of works from overseas.
Before long Luit started shaking things up, hiring professional staff and organising funds from the Lottery Board to greatly expand activities and boost acquisitions, as well as hiring additional staff on short-term (but often rolled-over) contracts. This ability to circumvent stodgy bureaucracy earned him few friends within it, but even his awareness in no way curbed his energy, creativity and ambitions.
Two years later, in 1981, when I was living in Christchurch, Luit came to call. He had been 'asking around' about who might assist him with the rapidly growing collection of NZ and international photography, and apparently my name had kept coming up. So, I went to the Capital for a month, to get a grip on what was involved and meet the staff. After that I would spend about a week per month at the Gallery while also doing some documentation and other related tasks at home in the Garden City.
Luit had been buying up large over the previous two years, so there were drawers full of loose prints in tissue paper. My initial task was to catalogue them, have them matted, and arrange for the solander boxes and shelving on which to store the collection. Much of the technical advice came from the Gallery's then registrar, Kate Martin (formerly Pinkham) in the course of which we formed a close friendship which remains to this day. The NAG was like that, a strongly knit team of about 36 which Luit infused with a sense of mission, to make a nominal national gallery into a truly effective one. My lasting impression is that of a very eager and cooperative team (without needing to be called one) who at times of stress over mounting exhibitions—especially at Shed 11—were ready to roll up their sleeves and help, sometimes working into the wee small hours without complaint.
Monday morning staff meetings—the only ones—lasted a maximum of 40 minutes: Luit was a terrific chairman and kept things moving. He would very often suggest that two staff members get together to sort out whatever problem was vexing them, and sometimes a staffer would be asked if their query was 'a real problem'. No grandstanding of any sort was tolerated, briskly and humanely. Some of the most effective "meetings" were when most of the staff migrated to the former Dominion Tavern in Tory Street on Friday nights for drinks and, usually, shared meals. These informal gatherings were a lively extension of the work at Buckle Street and a significant binding element in consolidating the collective effort.
One of Luit's greatest strengths was his respect for the staff's professionalism. Once the groundwork was clear, individuals would be left to get on with their projects, with Luit popping in now and then to see how things were getting on. Unless he was already in a formal meeting, he was endlessly accessible, patient and ready to come up with practical solutions to immediate logjams or longer-term problems. Imagine the shock, then, when his successor seemed determined to check, literally, every comma written. Luit's often direct approach didn't suit everyone, though, especially those socialised into niceness. He was genuinely mystified if his straight-talking happened to cause offence. One crucial piece of advice he gave his curators was, in dealing with artists, never offer more than you can deliver. In a sector where so many people want to be liked, not heeding this is a continuing temptation.
In later 1981, as part of the research for 1982's Views/Exposures show, he and I went to Auckland in the gallery van to visit photographers and talk about our ideas. Curiously several remarked that local gallery staff had never been to their workplaces, while Luit and I ended up being stopped twice by police to check that the marked van's occupants—two bearded, dodgy-looking characters—were indeed associated with the Wellington-based institution.
Neither was Luit averse to suggesting adding a couple of days to the trip for fishing in the Bay of Islands. However, while the resulting show pleased few photographers (it was never for them, anyway), on its national tour it opened the eyes of gallery punters as to the potential of this 'new' medium. This is exactly what Luit saw as one of the essential functions of a national art gallery.
Two years later the NAG launched Glenn Busch's Working Men project with its exhibition and acclaimed publication. How this came about is typical of Luit's seizing an opportunity.
Glenn was anxious to have his work published by the best possible means, but none of the publishers he approached were prepared to invest the means, or, more importantly, do the necessary prior research. In those days photographic reproduction was pretty much 'near enough is good enough'—as long as the basic subject-matter was conveyed, why bother? So I suggested to Luit, fairly casually, that we do it. He thought for about 5 seconds and said "Why not?" There was only the sketchiest ever written proposal. We then re-engaged production expert, Brian Moss, who commenced a study of the duotone process—even consulting the then world expert, Richard Benson, in the US.
Luit also saw the Gallery's national role as leading advances on quality reproduction, and this project fitted that bill perfectly. If Luit thought an idea had promise he would okay it, get the project moving curatorially while he, somehow, found the money. Often his vision bordered on cheek, but his approach was seldom lacking in exhilaration and thrill.
During his decade at the National Art Gallery the exhibition programme not only expanded, it boomed, especially during the time of the Temporary/Contemporary space at Shed 11 on the waterfront (1). One of the early actions of his successor was to close it down. Luit had campaigned for a new National Art Gallery and a site was found opposite Parliament in Molesworth Street. Luit and Dunedin-based architect Ted McCoy toured the world for some months inspecting various art-related institutions after which McCoy designed a compact, NZ-scaled building of distinction, rather like a series of pavilions set on a broad plaza at first-floor level. But when the very people Luit had engaged to manage this project saw an opportunity for a co-museum, a Pacific Art Centre on the waterfront, the then prime minister, Geoffrey Palmer, allocated the promised site for the Wellington High Court, and the rest, as they say, is history.
In the early days of the Te Papa project a document described the National Art Gallery and Museum as "fuddy duddy", in exactly the way medieval art had been described as "gothic" and one group of artists early in the 20th century as "fauves": wild men—for the same reasons. Well, in Luit's decade there were, for example, more national and international photography shows staged than in the quarter century of Te Papa's operation to date. His prediction that the Te Papa project was an over-scaled notion that would inevitably become mired in bureaucracy has proven all too accurate. Luit's nimbleness can be contrasted with that of a sloth on valium. Corporate 'processes' may have their advocates, and be a distracting mask for an imagined 'professionalism', but when, as they say, the rubber hits the road, it's what gets done that counts. And what counts is not just numbers through a door. If it's just about numbers, surely raunchy burlesque shows and arcades of pokies might further boost them?
Initially the new Te Papa building had very little dedicated exhibition space for the former National Art Gallery's collections. At the time the theory was to regard such items simply as examples of wider social/cultural production—hence the notorious pairing of a McCahon with a fridge in the opening Parade exhibition of 1998—but owing to ongoing social and political pressure (especially when prime minister Helen Clark was also arts minister) spaces in the building were progressively opened up for the display of the art collection.
In March 2018, to much fanfare, an $8.4 million remake of some internal spaces was opened as Toi Art, and while it expanded room for the collection's display it was in areas originally intended to serve other purposes. No admission was ever made (the corporate model never explains or apologises, only trumpets) that this development was in fact at a very sharp right angle to the ideology of the Museum's original foundation. Over the near-quarter century since Te Papa opened, anything to do with the display of art has been successively and demonstrably ad hoc. And when comparisons are made—say, to the Auckland Art Gallery—it shows. $8.4 million is a high price to pay for a band aid.
Luit's clear, courageous but unanswered questions about the Te Papa project led to his illegal dismissal from the directorship (2). Typically, he picked himself up, and in collaboration with his life-partner Jan, over the following three decades produced a singular succession of publications, exhibitions and, significantly, films. Luit's Handboek about Ans Westra's work, in coverage and flair, still stands head and shoulders above anything our nationalist museum has been able to publish. As Gauguin wrote in his Intimate Journal (1903): "For more than thirty years I have been watching the efforts of all sorts of groups and societies and I have never seen anything that counted but individual effort."
I was back at Te Papa, mercifully briefly, during the winter of 2009, preparing an essay for their big Brian Brake book when the CEO, Seddon Bennington, died in a snowstorm during a tramp in the Tararuas. Luit said to me: "You're back on the inside, you could let them know I'm interested"—pregnant pause—"But I'd need a free hand!" at which we dissolved into laughter at the unfortunate improbability. Let's be frank here, what CEO at Te Papa, with perhaps the exception of the first one, Cheryll Sotheran (all of whose energies went into completing a building), has equalled, or even approached, Bieringa's substance?
Partial, temporary physical disablement hasn't allowed me to visit Wellington for nearly three years, so the last time I saw Luit and Jan was on their visit to Gisborne at Christmas 2020, when we gathered for dinner at Edda and Steve McCabe's place. Edda, hailing from Tikitiki, was the Gallery's exceptionally gifted receptionist in the first half of the 1980s. It was a memorable evening of reminiscence and much laughter, an echo of the family atmosphere at Buckle Street and the Bieringa whare at Hataitai. We had kept in touch frequently by email studded with political cartoons and pithy observations on the art-world's foibles. Recently, when sorting through his belongings, Luit thoughtfully passed on to me a number of quality photographic publications. His last email was just a few days before he died. A couple of weeks earlier a mutual friend had sent me a pic of Luit, lying rigid on top of a billiard table, impersonating his own corpse. That was him, outlandishly fearless and funny to the finish-line, cocking a snook at fate's intervention.
His active, vivid, personality was unforgettable, a human being whose company was as stimulating and refreshing as champagne, a truly creative man who was a loyal and supportive friend, and certainly the best boss I've ever had. It's a national tragedy that at the peak of his powers he was side-lined by the culture that before and after he did so much to nourish.
Peter Ireland
(1) Curator and writer Robert Leonard is at present assembling a book detailing the history of Shed 11, one of Luit's last generated projects. In the first proposal Luit listed possible publishers, including, cheekily, Te Papa Press! Fat chance, Luit!
(2) There was a long blank wall in his office, which also doubled as the Board Room, and during his directorship he commissioned a succession of artists to 'muralise' it. At the time of his dismissal, it featured a marvellous work by Derek Cowie. Practically the first action of Luit's successor was to have it painted out. That symbolised a crucial shift from individual inspiration to corporate process: on what side does art live or die?