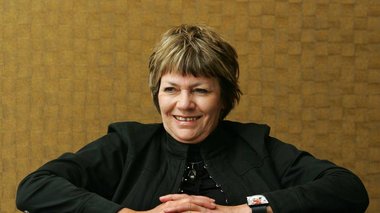 Peter Ireland – 24 January, 2018
The move from art history to management was a great loss to robust critical writing in this country. Her acumen, historical sense, fearlessness and crisp writing style marked her out as a potentially significant critic and public intellectual. The controversies surrounding her time at Te Papa may have distracted attention away from this early achievement and later promise, but perhaps time in its inexorable way will redress this and restore proper balance to her memory.
Dame Cheryll Sotheran obit
Her contributions
All those within the museum profession—and throughout New Zealand's wider art world—join with the Sotheran whanau in mourning the early death of Dame Cheryll after several years of ill-health. She was, first and foremost, a partner, a mother, a grandmother and a friend to many, so it's to this well of grief and loss our immediate thoughts must go. Moe mai ra i to moenga roa.
A baby-boomer, Stratford-born Sotheran took advantage of all the educational opportunities available to that favoured generation. As with any intelligent young woman in the 1970s she was involved in the women's movement and both contributed to and benefited from its successes, and once she entered the museum world in 1986 her energy, focus and enterprise was inspiration to many other women whose advancement and ambition hitherto had been restricted by the glass ceiling.
Her first, rather conventional, choice was to train as a secondary school teacher, graduating in 1968. But then, the following year, she completed an MA in English at Auckland University and that seemed to induce a taste for research. A certain die was cast when she then began studying Art History at her Alma Mater, and subsequently, when she began lecturing there in the subject, it seemed she was destined for an academic career.
During this period she came to notice as a writer and commentator on the visual arts. She was the first woman to contribute a substantial art-historical essay (1) to Art New Zealand, founded two years previously. But she soon found her critical metier in commenting on contemporary art, contributing reviews of exhibitions regularly to the Auckland newspaper, The Auckland Star.
From July 1983 to March 1985 she acted as Auckland correspondent for Art New Zealand (2) and—especially in retrospect—these pieces demonstrate her often bracing perspicuity, expressed in a brisk, business-like style. Take this on Ralph Paine: ' … it seems that the time has arrived for his blend of whimsy, cynicism and irony with acute political and social perceptions.' (3)
In the same column her particularly analytic involvement in the women's movement allowed her to assess, very early on, a shift in Alexis Hunter's work: 'This small group [of new works], using a more painterly and expressive style, gave a clue to the preoccupations of this more recent collection: the artist has moved, however, from seeing woman as victim of stereotyped attitudes towards sexuality and creativity, to showing woman-as-artist in an active role, seeing creative inspiration on her own account.' (4)
Sotheran's ability to sense a new direction and formulate her hunches crisply is illustrated by the following introductory paragraph to a column discussing the work of James Ross, Carole Shepheard, Bronwynne Cornish, Andrew Bogle and the Association of Women Artists:
'Getting in touch with ancestors is a significant activity for many artists at the moment: an activity more to do with the content of the work than its style, although the use of images, motifs, pictorial signs and suggestions of faintly tribal, perhaps prehistoric connections, give many of these works a kind of identity as artefact.' (5)
In the same piece, writing of Bogle's work, the quality of her predictive sense vis a vis how an artist's career might falter shines through:
'Spirals, lines of palisades, circular forms like burial mounds evoke a landscape made symbolic. The fact that such formations can only be seen from the air, and are curiously more accessible to our twentieth century academic eyes than they were for those who made them, is a kind of comment on Bogle's detached style: almost passionless, recording without apparent involvement.' (6)
Her foresight is again evident in her Auckland column when discussing Glenn Jowitt's Pacific photographs along with Anne Noble's The Wanganui (7), beginning with this general statement: 'Much of the interesting and innovative work being done in Auckland is photography.'
She continues:
'Jowitt's work for all the brilliance of images, facility of craft, retained a distance from the people imaged, which made me uneasy. Some local reactions went a long way past uneasiness: a reviewer for Auckland University's student newspaper Craccum lacerated the show for the falsity and political naivety of its pictures of happy natives. In this matter the intention of the artist is obviously crucial, but what the viewer has to deal with principally in making an assessment of the artist's intention is the images presented. Jowitt's very attractive colour photographs did not seem entirely to escape the mire of tourist-pix which they superficially resemble. I'm not suggesting that the resemblance is anything but superficial, not that, as photographs they had anything to connect them to the mechanical manipulations of pose, viewpoint and lighting effect that the sellers-of-dreams deal in: but I had difficulty with these images in distinguishing between sympathy and stereotype.'
These comments raise questions about Jowitt's Pacific work that have yet to be answered.
As with Anthony Byrt's writing thirty years later, Sotheran was at her best when she analysed the sometimes difficult work of an artist she esteemed. Even before Merylyn Tweedie transitioned into et al et al, Sotheran's comments reveal a firm grip on her project (this is in 1984, remember):
'This artist has previously shown in group shows, working in photography, collage & artists' books, and stood out as having distinctive and unorthodox approaches to rather orthodox subject matter. Her theme is personal: aspects of women's urban (or suburban) existence: stereotyping, categorisation, the accumulation of material goods, the paraphernalia of domestic life and child care. This isn't new subject matter, because for many women it isn't a new experience: the matter of their everyday life continues to be valid material for art making. What gives an artist like Merylyn Tweedie's work an impact and an edge, what makes it function not so much as documentation but as a critique of that suburban life, those stereotypical attitudes, is her distinctive choice of image, and her very individual style. It is clear from stylistic choices she makes that this is political art: the use of repeated photographic images, with their combination of documentation and comic strip bluntness; her use of words, written around the images, spelling out messages, shows that she is not after a neutral audience, and the she rejects detachment herself.'
And: 'These images are not static; they record experience. The experience may be ordinary, but the artist refuses to let her vision become contaminated by triviality. The avoidance of slickness, the edge of bitterness which can become almost savagery, or can reveal great tenderness is what makes these works memorable. The most effective pieces seemed those in which economy of image was matched by curt linguistic elements. Occasionally (as in a work dealing with the demeaning nonsense of the Mills & Boon culture) there seemed too many words. Of course this could be seen as a way of conveying the flowery overstatement, the offensive euphemisms of 'Romantic' prose, and this artist generally seems too much in control of image and text to exhibit radical failure of judgement.' (7)
Unusual for such a commentator, she often quoted writers with differing views in the course of her assessments. A good example of this is her mention of art writers Derek Schultz and Wystan Curnow when discussing the work of Mervyn Williams (8), a column including recent work by Juliet Batten and Di Ffrench, all three artists positioned within a thoughtful consideration of what 'landscape' might mean vis a vis art practice in New Zealand and the suggested transformative nature of the artists' individual work. Of course, with her interest in 'women's work', Sotheran brings a fresh, mid-'80s perspective to the practices of both Batten and Ffrench.
The following issue of Art New Zealand, number 34, Autumn 1985, published what was to be her final contribution to the magazine, a two-page essay on a show at Outreach of women's visual diaries and artists' books, a piece prefaced by quotations from Rozsika Parker & Griselda Pollock and Kate Millet, and critically negotiating the space between experience and expression. Sothern's critical credo could be expressed in one simple sentence: ' … my misgivings about some of the works didn't necessarily mean I questioned their inclusion; rather that I was made to question my response.'
The following year, 1986, marked the crucial turning-point in her career. Her appointment as director of New Plymouth's Govett-Brewster Art Gallery signalled a major shift from art history to museum administration. After three years back in Taranaki she took the helm at the Dunedin Public Art Gallery for a similar period before being appointed the inaugural CEO of the new national museum, Te Papa Tongarewa in 1992, six years before it opened to the public in 1998.
The move from art history to management was a great loss to robust critical writing in this country. Her acumen, historical sense, fearlessness and crisp writing style marked her out as a potentially significant critic and public intellectual. The controversies surrounding her time at Te Papa may have distracted attention away from this early achievement and later promise, but perhaps time in its inexorable way will redress this and restore proper balance to her memory.
Dame Cheryll's legacy is inextricably linked to the creation and subsequent history of Te Papa, and while it may seem inappropriate to address this in an obituary, she herself never shied away from controversy—'We welcome debate' was almost a mantra during the early years of her administration—and besides, she was a public servant and the museum project was funded by taxpayer money and so to that extent her role there remains public property. It is a tragedy of operatic proportions that what is considered by many her greatest achievement is simultaneously regarded by many colleagues as a regrettable end to what seemed a brilliant career. While she bore this stigma with courage and dignity there was a palpable sadness surrounding this loss of esteem. The challenges of her decade at Te Papa may have drained her physically, but there's a sense they depleted her spiritually too in terms of karmic repercussions.
Since her passing, the favourable phrase 'on time and under budget' has appeared often in obituaries and reminiscences, but there has been no mention of the long-term consequences of this pressure-cooker scenario for Te Papa as an institution and particularly the human costs for the professional staff. Perhaps the last of the Think Big projects, Te Papa's organisational structure has been complicated—and probably compromised—by its being based on the corporate business model of the 1980s, foundational issues still dogging the institution two decades after it opened in 1998. The corporate model places managers above museum professionals, the latter thereby marginalised, consequently frustrated, and ultimately lacking in drive, a situation making the museum never being a happy place to work in. New Zealand's a small country and word gets around, so there have never been long queues of applicants for vacant positions (9).
In his personal obituary current kaihautu, Arapata Hakiwai, has said that Sotheran and her kaihautu the late Sir Cliff Whiting were 'the two true creators of Te Papa', but that contentious honour must go to Ken Gorbey and Graeme Shadwell: they formed the grand conceptual plan and Sotheran and Whiting were left to implement it. The initial concept was settled by the end of the 1980s and Sotheran came on board only in 1992, and the challenge of having the building completed 'on time and under budget' in less than six years was probably an unreasonable expectation, which is why the successful completion necessarily involved a great deal of unreason, especially in the treatment of staff. This frankly toxic beginning has left an abiding stain on the institution's operations to this day (10).
The management culture prevailing has left a trail of uncompleted 'restructurings' - as the various CEOs have 'moved on' - which have demoralised and disoriented the professional staff, one of the principal reasons why Te Papa has demonstrably failed to deliver on the promises made by the project team in the late 1980s. Of course, management culture values visitor numbers as the acme of success, but what other national museum uses this statistic as almost the sole measure of achievement? (11) And if Te Papa is the truly vanguardist institution its enthusiasts claim it to be, why has it never featured in global literature as such? Two decades in the internet age is an awfully long time not to be noticed.
In Wellington's Bolton Street cemetery there's an instance of a common 19th century tombstone inscription for a deceased wife, an ambiguous quotation from St Mark's gospel, chapter 14, verse 8: 'She hath done what she could.' All stories are fundamentally human stories, so may Dame Cheryll at last rest in peace.
Peter Ireland
(1) 'The Later Paintings of William Fox', Art New Zealand, issue 11, Spring 1978, pp 42-49.
(2) Issues 26, 27, 31-33 inclusive.
(3) Issue 29, Summer 1983/84, p.16.
(4) Ibid, p.17.
(5) Issue 31, Winter 1984, p.16.
(6) Ibid, p.17.
(7) Issue 27, Winter 1983, p.12.
(8) Issue 32, Spring 1984, p.16.
(9) A former, long-term employee recently described the museum as 'a city of lost souls.'
(10) Gaylene Preston's 1999 documentary film Getting to Our Place provides many instances of the pressure-cooker scenario.
(11) In the early 2000s this writer submitted to doing the Te Papa survey in the atrium. One of the first questions was something like "How many times have you visited Te Papa" and the answer was at that point in the 40s. I then asked how this would be interpreted and the young woman said it would indicate high satisfaction with the museum. I then asked for the sheet and tore it up. 'Lies, damned lies and statistics.'