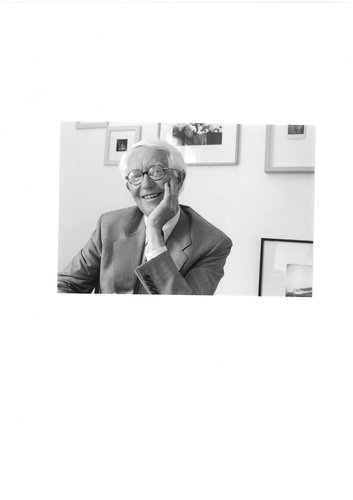 Peter Ireland – 28 November, 2015
Discussing photography and photographers was a regular feature of my conversations with Peter. The last one we had before Parkinsons totally deprived him of speech was about Solomon Mortimer's work. His mind remained as acute as ever, and there were times when in conversation with Hilary neither of us could remember a name or date, Peter would be writing it down on a bit of paper faster than you could say "Alfred Stieglitz", and then joining in the laughter afterwards.
After several years of enduring the cruelly relentless progress of Parkinson's disease, Peter McLeavey died recently in Wellington at the age of 79. Jill Trevelyan's biography has given a more than adequate account of his life, so this obituary is a more personal story of an individual relationship. What value it might have is probably as an illustration of the way things can happen in New Zealand.
Towards the end of 1968 I moved from Dunedin to Wellington to work. I'd read a few reviews here and there by this McLeavey fellow and was aware he'd recently opened a gallery at 147 Cuba Street. Since my workplace was in Taranaki Street near the junction of Courtenay Place I was able to nip around during my lunch-hour to check out this new operation. It was the final week of the first show there - Woollaston landscape paintings - and, in keeping with the McLeavey style, I was greeted warmly and asked about my interest in art. I became a regular visitor, and soon was attending the Friday night soirees which were a feature of the gallery's early years. Attendees were mostly young people in their 20s, keen to see what contemporary artists were coming up with, and sometimes going away with a $15 Robin White print of the Paekakariki Hotel, or one of her birds at Portobello in Otago Harbour. It's almost impossible to imagine the milieu existing then: it was the only place in the Capital where you could see contemporary art. When the Bett Duncan Studio Gallery opened shortly afterwards across the landing (where Enjoy is now), 147 Cuba Street became The Place To Be.
Over the following two years familiarity developed into friendship. The two Peters had a lot in common: a long Catholic background - its tribal rituals, its art tradition, an outlook more symbolic than "real" - a seduction by art, and a belief matching Gauguin's that anything significant happening is achieved by individuals, not by committees and institutions. We regularly met after work for a beer or two at the now-demolished Wakefield Hotel just up the street. The habituees of the squalid back bar greeted Peter as a Cuba Street native. Sometimes we were joined by the likes of Michael Smither, Billy Apple or Ron O'Reilly.
Hospitality extended to their small house on the Dixon Street steps, where I was often invited by Hilary and Peter for meals and where I met the likes of Toss Woollaston, Gordon Walters and Jeffrey Harris, as well as witnessing the beginnings of the McLeavey family. Being a slow learner I was only gradually realising the nature of the informal, but extraordinary education I was being blessed with. But, at the time, I took it for granted as just the ordinary revolution of daily life.
For much of the 1970s I lived at Paekakariki and thus began a long personal correspondence (which continued after the onset of his illness via his amanuensis the patient Josephine) and in retrospect I am humbled by the degree of Peter's trust in the strength of our friendship. He was always an intensely private man - one sensed great care to avoid his being hurt - and so even at his most relaxed there was always the knowledge that boundaries had to be observed and respected. Anyone who took liberties was swiftly despatched far from arm's length, both personally and professionally, the determination involved matching exactly his signature courtesy. But when it came to discussing anything it was open slather, and he enjoyed hugely the more surreal speculations and outrageous comments that might be made, his asthmatic laugh giving flesh to his always innocent enjoyment. Away from the formality of the gallery and relaxed he could be very funny, and his comic timing was impeccable.
Once in his Brooklyn flat - during his brief return to bachelorhood - when he was cooking up his standard meal of grilled chops, mashed potato and tinned peas, he'd refreshed my drink and was returning to the kitchen, he eyed up several large Schnabel works he'd stored in the living room after an exhibition at Cuba Street, and, as he went through the door he said "You know, this could be the biggest collection of Schnabels in Brooklyn", then he popped his head back round the door and said, with a completely straight face "That's Brooklyn New Zealand" and disappeared again into the kitchen.
In the early years of the '70s when the gallery struggled to break even I offered my Paekakariki cottage to the McLeaveys a few times when I'd be away. Invariably I would return home to find a gift left on the table: usually an LP of people I'd not then heard of: Randy Newman, Laurie Anderson, Blossom Dearie. It was through Peter I first heard such names as Barbara Kruger, Sherrie Levine, Bill Henson and many others, long before they became art world household names. He had the gift of knowing when it was the right time to do the most productive thing.
Gradually I was entrusted with marginal gallery tasks: collecting invitations from Val's printing shop down Cuba Mall, painting the gallery interior every couple of years (once "painting out" an Apple show, recording the exact time and informing Peter by phone immediately), and even minding the gallery on occasions. Our mutual, growing interest in photography lead to three unique commissions; to curate group shows for the gallery: The New Image in 1976, Looking Back in 2001 (1) and Victory Over Death in 2002/3. For each of the two latter shows Peter produced one of his budget publications containing the curator's essay and one tipped-in image from the show, the tipping-in done between us one evening after work on the gallery floor. His trust was absolute. Once the general idea behind each show was clear I was given a completely free hand: the theme, the selection, the hang. This sort of association was beyond rubies.
Later, at the Hill Street house, the pleasures of dinners and good wine, stimulating conversation, and seeing Catherine, Olivia and Dominic gradually emerging as the individuals they've become. Families are families, and as Mallarme once observed "Life is rich, not clear." The McLeaveys' hospitality was unstinting and open-hearted, and being there within those walls unpretentiously rich with books and art works was a reassurance that certain things still mattered. And as Peter built up his collection of international photography, being in the living room there was being in the best room in New Zealand, and one shared generously, as if it were the most ordinary thing in the world. Ans Westra's Maori jivers shared the walls with Berenice Abbott's James Joyce, Robert Frank's Butte, Montana, Dorothea Lange's long road in the mid-West, Charles Clifford's and Francis Firth's orientalism, with James Naysmyth's moon, Henry Fox Talbot, Atget and many others. A stimulating conversation without need of words.
Discussing photography and photographers was a regular feature of my conversations with Peter. The last one we had before Parkinsons totally deprived him of speech was about Solomon Mortimer's work. His mind remained as acute as ever, and there were times when in conversation with Hilary neither of us could remember a name or date, Peter would be writing it down on a bit of paper faster than you could say "Alfred Stieglitz", and then joining in the laughter afterwards. Despite his increasing physical condition he remained fully engaged with the world: the day before he died he was reading poems by Seamus Heaney, one of his favourite authors.
Anyone attempting critical writing in this still-anxious culture soon learns the activity's not going to make them many friends. Not that it should ever be about making friends. But belonging is a basic social need, and in a small, inward-looking and very inter-connected society like New Zealand's critical writing can be a perilous business. There are a lot of other things I'd rather be doing - honestly - but in the later 1970s it seemed the medium of photography needed an advocate or two who weren't photographers; individuals who were prepared to look at, think and write about photographs. So, rather than sitting on the sidelines and complaining about the lack, I rolled up my sleeves and have been doing the best I can since then to give the imagery a - hopefully - helpful context for new-comers and to join a few dots that might bring something of a comprehensible pattern to the image-making for those with an interest in the medium but not quite knowing where to start.
Peter was an unfailing support in this enterprise - not that he necessarily thought my stuff was any good, but he believed deeply in the importance of discussion and debate. It's easy to announce one's commitment to freedom of speech, but in the art world when it happens there are few who can actually accommodate it as consistently as Peter McLeavey did. Being a conspicuously unsuccessful painter myself, commercially and critically, I've always avoided writing about anything other than photography lest it be interpreted as sour grapes. Fair enough. But in 1999 Peter had a Bill Hammond show I just couldn't resist writing about - albeit for a student magazine with a tiny circulation at Victoria University (a publication which, predictably and perhaps justifiably, lasted only one issue: perhaps my piece sank it?) - and, cheekily, I sent Peter a copy. It was pretty "out there", clearly registering a lot of reservations about Hammond's recent entry into the realms of colonial history. But Peter - of course - took it on the chin and warmly and genuinely congratulated me on writing it. One of his mantras was "It's all grist to the mill". Cynics may interpret this along the lines that "Any publicity is good publicity" but Peter meant it, and it's further evidence of his true, and rare, liberal approach to being in a free marketplace: all the way from the rareified (yeah, right) groves of academe to the gritty commercial realities of a Cuba Street.
These days few believe in miracles, but in October 1968 an incredible miracle did occur in Cuba Street when a fresh-faced young man first mounted the stairs at 147. Vale Peter, rest in peace.
Peter Ireland
(1) See Gerald Barnett's review, Art New Zealand 99, Winter 2001, pp 59-61