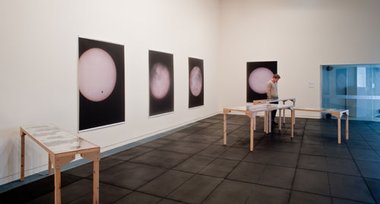 Peter Ireland – 11 January, 2013
Dark Sky was, celebratorily, a photographic show, so what was McCahon's painting Venus and Re-entry doing there? Because of the subject matter? Does Vic funding depend one at least one McCahon per show? Who knows? Ann Shelton's single entry June 2004, Onaero Beach, Taranaki, Looking North-East before Dawn was, at the very least, worth ten of them.
Analysing the exhibitions of 2012
EXHIBITIONS
Victoria University's Adam Art Gallery's mid-year Dark Sky exhibition was definitely the supreme highlight of this, or almost any other, year. Superbly curated and brilliantly installed by art history professor Geoffrey Batchen and Adam overseer Christina Barton, this show of photography occasioned by the Transit of Venus was a tour de force visually and intellectually. Apart from two very minor reservations - of which more shortly - Dark Sky was the most impressive photography show this viewer has seen in New Zealand. Retrospectively still thrilling.
Essentially it was about photography, and the medium's role in the relationship between humankind and the heavens. With focused nous and commanding confidence a whole range of photography was included equally (part of the point): early to contemporary, vernacular to art, experimental to commissioned, drawn from both private and public collections - everything from a huge and purposefully sublime Thomas Ruff, through Tillmans' wonky 2004 Transit installation, to Herman Krone's earnest and utterly intriguing 1874 Auckland Islands' project, and still further to crappy Russian images of the far side of the moon, Neil Armstrong in Life magazine (so often photography's life support), to postcards of goofy 1940s' couples astride "crescent moons" in funfairs having their photos taken. Away from the auction rooms this is what photography can do.
One of the most satisfying sections was in the cave-like (Plato again?) room lodged halfway down the Adam, where 15 Eric Lee-Johnson night images held court. They're from Te Papa's collection. When did you last see 15 Lee-Johnson's up at Te Papa? Is never good for you? Even allowing for our national museum's sloth-like programming and a seeming fixation on a lower common denominator, it's incredible to think that the Adam can mount shows like this and Te Papa can't or won't. The Adam's more recent, excellent Duchamp show poses the same question - and again, it contained significant items from the national collection that are never seen at Te Papa. On the other hand, the Adam has a preparedness to toss a few balls in the air, whereas the waterfront site seems eternally bogged down by its self-imposed mission of being somehow authoritative.
It's the place to digress from Dark Sky briefly here. The other major show of the year in Wellington was Te Papa's Kahu Ora exhibition - credit where credit's due - a highly significant event, rivaling Te Maori 's achievement, even, in terms of content and timing, drawn mostly from the museum's own large collection of Maori cloaks. (covered extensively in my Art New Zealand piece, issue 144.) However, it has to be said that Kahu Ora happened by accident. Some more conventional crowd-pleaser had been planned for the Visa Platinum Gallery but when it fell over the Matauranga Maori team successfully bid for the opportunity, partly because the show's eventual curator, senior staffer Awhina Tamarapa, already had an impressive book on the subject being shepherded through Te Papa Press.
Anyway, back to Dark Sky. It was, celebratorily, a photographic show, so what was McCahon's painting Venus and Re-entry doing there? Because of the subject matter? Does Vic funding depend one at least one McCahon per show? Who knows? Ann Shelton's single entry June 2004, Onaero Beach, Taranaki, Looking North-East before Dawn was, at the very least, worth ten of them.
And what, pray, was Simon Ingrams' 2012 installation Looking for the Waterhole doing there too? At least it was isolated just off the foyer enough to avoid contaminating the other works with its gimcrack, pseudo-science. The catalogue stated that the artist is one "whose enquiry is focused on the dialogue between art and contemporary technology", as it would. The work was ingenious enough as a mechanism and had all the fascination of pixietown but without the charm. Apparently it was meant to channel received white noise from space through a series of stages that would've amused Heath-Robinson, translating these impulses into an automated "art work" being made continuously by brushes on a moveable grid working across a vertically-fixed square white canvas. Any point this seemingly random process might've had was completely sabotaged by the artist having continuous supervision remotely and making interventions (on what basis was not revealed: aesthetic, practical, ideological?) that cut across any conceptual value the randomness may have engineered. Whatever "dialogue" was involved was in the order of Babel. The other ninety-one of the exhibits looked outwards, to the far reaches of the universe . This ninety-second one looked inwards, to God-knows what.
At Photospace there were two memorable shows: Siren Deluxe's Dec 2011/Jan 2012, and Andrew Ross's Southland show in April. Deluxe isn't a "big name" (but she might've made Dark Sky) and her An Exercise in Futility consisted of recent colour images that saw her sometimes uncertain approach firm up and take off with an assurance and surprise that was as satisfying as it was engaging. More please. Andrew Ross's partner had the William Hodges Residency in Invercargill last year, so had a year's chance to mooch around Southland following his faultless nose for the forgotten, abandoned and the temporary, in all their cruddish glory. Two years ago he had the Tylee Residency in Whanganui for six months, and what he found in that time was a revelation even for the town's longer-serving residents. He even topped that in Southland. The folios of work in the Photospace office were even more potent than the framed works on the walls. He's not a big name either far from the Capital, but his work grows in stature and that's where it matters.
Further up the road at McLeavey's in April was Yvonne Todd's Seahorsel Subset show. It was a bit of a God-knows what moment too, but in a good way. Todd never lets you take her work for granted, and it's possible to look at it intently and still be chewing over the implications months later. With her there's never any sense of grinding out a formula, which seems to account for at least fifty percent of what's exhibited around the place. Gardens, black singlets, yet more birds. OMG.
Even further up the road, at McNamara Gallery Photography in Whanganui, the year saw a continuation of an intelligently-conceived and finely-tuned programme with a series of outstanding shows. Two stood out in particular: Mark Adams' in July and Ben Cauchi's in November. Adams' stark and effecting images, often in diptychs or triptychs, depicted the largely unknown, remote sites in the South Island where the Treaty was either proclaimed or copies of it were signed by various hapu. Although they date from 1997 the images seem to have increasing currency, being exhibited coincidentally at the time of the rising debate about water rights and other issues. Away from the clamour of metropolitan arguing these often barren, empty and always littoral sites seem to bear witness to unfinished business, and, like Buller's birds, they remain waiting.
Cauchi's seven-work show Hypnagogia at McNamara's coincided with his big survey The Sophist's Mirror at the City Gallery in the Capital, and formed an interesting tangent to it. The two small rooms at the Whanganui gallery were perhaps more attuned to visitor experience and focus than the large space given over to the survey in Wellington. The exhibition organisers there apparently went for a sparse hang, and the gallery seemed more stretched than articulated. It's the difference between pauses and gaps. Again, the much smaller Whanganui show had a focus - by which illuminating connections are made - that often the much larger City Gallery show struggled to make comprehensible, and it wasn't easy to answer the question why this show, here and now? Cauchi's earned his stirrups over the past decade, and his work gets more intense by the month, but to make something of it in a worthwhile surveying sense requires more rigour and thoroughness than is evident with The Sophist's Mirror.
Right now the Auckland Art Gallery's hosting the show Who Shot Rock & Roll, curated by Gail Buckland for the Brooklyn Museum, and the NZ Portrait Gallery in Wellington sees Chris Bourke's exhibition Blue Smoke, arising from his popular and successful book of the same name published towards the end of 2011 and subtitled the lost dawn of New Zealand popular music 1918-1964. International photography curator Buckland has put together a very large collection of images by dozens of photographers - mostly photo-journalists - covering music performance personalities from 1955 to the present. Visually it's a riot of a show with some terrific images - the Diane Arbus of James Brown in curlers was worth the $15 admission alone - but the images are there because of who's in them, and as Virginia Woolf said of D H Lawrence there are great moments but some awfully tedious half-hours. Of course, such a show is very popular - visitors looking up old stars and reliving the moment. All good clean fun - perhaps ironically - but the exhibition is fundamentally about nostalgia, not about photography.
The period covered by Blue Smoke is mostly too remote to allow for much nostalgia, although the images of Johnny Devlin doing Elvis are at least a reminder of a simpler, gentler time. The object of Bourke's show is to recover that lost dawn and give status to a fascinating period of endeavour that until now has been largely ignored. The images are pretty good too, a mix of formal studio portraits, in situ performances and, later, the more informal antics of musicians as they graduated to stars. There's little sense in Blue Smoke of the editorial prescriptions of photo-journalism and most of the images have a freshness and innocence that make them more approachable.
The photographic lowlight of the year had to be Te Manawa's Now & Then: enduring and developing themes in New Zealand photography, on in Palmerston North from March to June and currently touring to several provincial public galleries. At a time when such an approach could've been so fruitful we were delivered an over-packed, curatorially confused mélange of stuff that could only lead to bewilderment not illumination. (Now & Then is covered extensively in my Art New Zealand piece, issue 142.) Most provincial galleries seem to have one photography "slot" per year - which can be anything from local camera club nature studies to world press photography gigs - and so when any opportunity's missed it's doubly problematic.
PUBLICATIONS
2012 seemed a bit light on outstanding photography books. Peter Black's i loved you the moment i saw you was perhaps the highlight, where the content, sequencing and design gave the book such a seamless quality - even if the subject matter was partly at least about social disjunction. Anne Noble's much-anticipated Ice Blink lacked such seamlessness, the too-clever design with narrow margins making the images - once you could follow them - seem pinched on the page and herded into the book. Mary Macpherson's recent Old New World was a fine production, but the images seem to work better as an exhibition, grouped on walls rather than in a published sequence. Photography has always had a particularly intimate relationship with the book, and sometimes it works better than others. Neil Pardington's museum interiors series The Vault (2010) seemed to work better as a book than an exhibition, for instance.
An absolute beacon of a publication for some time, and now given added impetus in the wake of the Canterbury quakes, is the Christchurch Art Gallery's modestly-named Bulletin. What started off as a showcase for the gallery's exhibitions and activities has now, with the building closed, become one of the prime sites of their outreach. Before the quakes it was already head and shoulders above any other regular public gallery publication here: the intelligent and informative articles by staff and other experts, the engaging interviews with artists and other players and a strong community presence, all delivered in a package superbly designed and copiously illustrated. Now its role has changed - or been charged up by circumstances - and it's now the public face for their extramural programming: sites all over the city humming with imaginative projects, and serving as something of a focus for rejuvenation. It's clear there is a strong, and grateful, community response. And all this without a building! Mmmm, makes you think.
Recently published in the Bulletin format is one of the best bargains of the year at $15: Reconstruction: conversations on a city. Part post-quake record, part providing a philosophical basis on which to model the new city, it's a fascinating and rich compendium of art works from the 1850s to the present depicting the thing we came to know as "Christchurch", a great many of the items from the Gallery's own collection and a great many of them again being photographs. The way the latter are woven in as equal to the more conventional artworks is something of a landmark, and differs greatly, for instance, from the first major historical NZ collection show hang at the reopened Auckland Art Gallery last year where the earliest photograph included was dated 1955 - a whole century of significant image-making totally ignored. Not only is Reconstruction's content superb, the design and reproduction quality is superlative. Three cheers for the Christchurch Art Gallery.
Even after three or so decades of trying to put organisations on a business footing, we have a situation where public galleries and museums here continue to behave like leisured gentlemen with a hobby -maybe it's one of those problems of buildings without windows? Most of their publications are tagged to particular exhibitions, YET the associated publication won't yet be available for sale AT THE OPENING. Would a major telco hold the launch of a product and then announce it would be available in six months? Since the 1980s a culture of delay has developed in the sector that is indefensible. After a while it's become self-perpetuating: get away with it once and you give yourself permission to repeat the experience. It's the rule that major exhibitions for which there is to be a catalogue or associated publication have a planning process of at least two years. Museums in the UK, Europe, the US and Australia manage to observe what is basically professional behavior: why not here?
Two examples will suffice. Earlier this year New Plymouth's Govett-Brewster mounted a fine, largely Paul Brobbel-curated show of Aberhart's Taranaki work, a project in train for some time. Yet the catalogue didn't appear until six months after the opening - although, to be fair, it just caught the tail end of a well-conceived provincial tour. Wellington City Gallery's Ben Cauchi show opened on the 19th October, and the associated book has yet to appear. This from an institution whose foyer sports a table with piles of unsold catalogues reaching back into last century. Isn't someone joining the dots?
Fridges now have on them a rating of stars to show how energy-efficient they are. Perhaps the museum sector might consider applying a similar visual device on the half-title page of publications indicating the length of time to have elapsed between the opening of the show and the launch of the book, with perhaps the performance bonus of the institution's CE be tagged to it as well. A bit of naming and shaming might get things moving. Yeah, right.
Peter Ireland