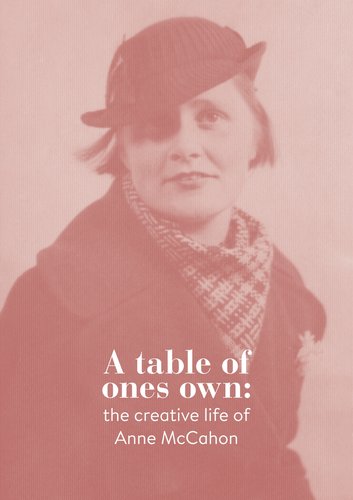 Peter Ireland – 6 March, 2017
The show's teeming good intentions tend to smother the fraughtness of its project, blurring the line between art history and social work. The extensive research, the many items gathered from all over the country, the substantial publication, the four essays and 7-page chronology in it collectively seem an attempt at expiation for the sins of the fathers rather than the foregrounding and celebrating artistic achievement it purports to be.
Looking at the book published accompanying:
Anne McCahon artworks and memorabilia
A Table of One's Own: the creative life of Anne McCahon
Curated by Linda Tyler with consultant curator Victoria Carr and researched by Jessica Douglas
19 November 2016 - 12 February 2017.
In the education sector there's always a debate simmering about the object of rewards: should they be for personal effort or for demonstrable achievement? This recent exhibition raises the same question within the arts sector, except in this case the question hovers around promise rather than either effort or achievement (1).
Anne Hamblett was born at Mosgiel near Dunedin in 1915 and attended the city's School of Art in the 1930s at possibly its most innovative and productive phase, largely through the influence of tutors R N Field and W H Allen, both brought here from the UK under the La Trobe scheme (2). At the time she was widely considered as one of the school's most promising students, and the work surviving from this period certainly supports that contention.
Among her fellow students was Colin McCahon, and despite the reservations of her parents they married in September 1942. The following decade clearly had its challenges for the McCahons: they were frequently apart - Anne staying with her parents while Colin sought work in Wellington and Christchurch - and once they started having children (four from 1943 to 1949) the expectations of her as a wife and mother must have demanded all of her time and energy - as well as having to manage a household on the small amount her husband was able to bring in. They weren't able to live together as a family until they moved to Auckland in 1953.
Of course, up until the 1970s married women generally dedicated their lives to being mothers and home-makers, and indeed there was a strong social expectation they should. Even relative bohemians such as the McCahons would have been subject to that sort of implied pressure (3). Also, until the recent explosion of social media, private lives really were private lives, and what discussions may have taken place between couples about the implications of an intense domestic focus on the woman's creative aspirations remained private. There were probably very few such conversations, so the spiritual pain and resignation of such women remained private too. It wasn't until the feminist movement of the '70s that artists such as Joanna Paul and Rhondda Bosworth - who forged some sort of artistic practice while still subject to societal expectation about raising children - were able to express this dilemma in their creative work: too late for Anne McCahon's generation.
In a characteristically colourful piece on this Te Uru show (4), painter Jacqueline Fahey shares her own experience of being an artist-wife and her thoughts on the compromises involved. Having been born in 1929 she's almost a generation younger than Anne McCahon - young enough not to have had the great Depression with its worry about employment scar her life. Fahey seems to think the major difference between her own experience as a woman artist and McCahon's is that she herself didn't have children until she was 30; but Anne was 28 when she had her first child - not a huge difference. Perhaps a significant factor is that while Anne's husband was an itinerant gardener at the time; Fahey's was a doctor.
The exhibition was occasioned by the 10th anniversary of the McCahon House Trust (5) but a contributing reason for its coming into being was extensive prior research into Anne McCahon's life, a project a Trust press release last October reveals as resulting from "Visitors to McCahon House often want to know more about Anne McCahon." The exhibition's title - A Table of One's Own - is a riff on Virginia Woolf's remark that a woman writer needed "a room of one's own." Cyril Connolly's grim observation about "the pram in the hall" might have served as an alternative title - even if, in the McCahons' case, their tiny house had no space for a hall.
What Anne McCahon thought and felt about her situation seems to have remained her private knowledge. We have to rely on the impressions and speculations of others - family, friends and associates - for any insight as to what her motivations and feelings might have been. All sorts of agendas are let loose with this recollecting (6) and it would take a team of forensic psychologists many months to tease out something approximating truth.
Promise unrealised is always a sorry story, and one where sacrifice for social reasons features can be a case more suited for social historians than historians of art; the added fact here of an artist husband earning fame at the seeming expense of the wife tends to muddy the waters with simmering resentments and recrimination. Apart from the incidental reasons for this exhibition there is suffusing it a palpable sense of wanting to do some form of justice to Anne McCahon's memory, the promising artist who sacrificed a potential artistic career to be a wife and mother, and helpmate for a man now widely regarded as this country's most significant artist.
The show's teeming good intentions tend to smother the fraughtness of its project, blurring the line between art history and social work. The extensive research, the many items gathered from all over the country, the substantial publication, the four essays (7) and 7-page chronology in it collectively seem an attempt at expiation for the sins of the fathers rather than the foregrounding and celebrating artistic achievement it purports to be. Is this sound policy? Where might its application lead? Will, for instance, the McCahon House Trust open up its residency programme to elderly artists who for various social reasons have been unable to sustain a life-long productive practice? Will Te Uru mount retrospectives for artists such as, say, Colin Lovell-Smith and Cecil Kelly, both of whom had artist wives of greater reputation and achievement?
When women artists of the stature of Grace Butler, Maud Sherwood, Louise Henderson, Rona Fleming, Vida Steinert, Ida Eise, Rona Dyer, Gwyneth Richardson, Rata Lovell-Smith, Gwen Knight, Jenny Campbell and Jean Horsley for instance, have never been awarded the tribute of a publication examining their whole careers (8), the effort by Te Uru of producing a 74-page catalogue for this show seems a little misdirected. OK, Anne McCahon was once a local, but when the new gallery opened in 2014 some play was made of its having horizons wider than Titirangi and West Auckland.
But she was not just any local: her husband was a leading painter and his Titirangi years were among his most pivotal, and it's a kind of irony that in this present enterprise giving Anne McCahon some due as an individual the fact she has been chosen is still very dependent on who Colin was. The new light her reputation stands in is largely of the reflected variety. Besides, showing promise at art school is hardly a rarity: it's what happens from then on that matters. The statistic most often quoted suggests that only one in twenty art school graduates eventually makes some kind of mark as an artist, and who's to say that if Anne Hamblett hadn't married McCahon, had married someone else, or not married at all whether the early promise showed would have developed into something memorable?
In a recent New Yorker (9) the magazine's art critic Peter Schjeldahl reviewed A Woman's View, a retrospective at the Met Breuer of Italian artist Marisa Merz's work, the only female member of the Arte Povera group which arose towards the end of the turbulent 1960s as a radical, counter-cultural response to prevailing values. Typically perhaps, she is the last member of the group to have such exposure. Schjeldahl commented on "An occasion that might have seemed a revisionist historical footnote turns out to be more like the best saved for last." That "revisionist historical footnote" poses its own question, hanging heavily in the skies over Titirangi.
Peter Ireland
(1) The writer is keenly aware of the likely reaction to the very raising of this question in the circumstances, and possibly being regarded as heartless, an exemplar of poor form or even anti-feminist (in much the same way as any critic of Israeli government policies towards the Palestinians is regarded as anti-Semitic) or as mounting a rear-guard action by the patriarchy. Still, all sentiment aside, it's an issue requiring some examination in terms of public gallery culture.
(2) This aimed to raise standards in NZ art schools by attracting teachers from UK art institutions. It commenced in the 1920s and was named for W S La Trobe, the technical superintendent for the Education Department, who envisioned it.
(3) The McCahons knew about the power of this, having experienced social exclusion in the Titirangi village of the 1950s because of a perception they were "too different".
(4) Locked out of the studio: On 'The Creative Life of Anne McCahon', The Pantograph Punch blogsite, 30 January 2017.
(5) The Trust was set up to preserve the original McCahon house on Otitiri Bay Road, to build the adjacent residency house and studio and to operate the McCahon House artist residency.
(6) Fahey's story, received second-hand, about the elderly Anne speculating that had she been able to continue her work she would've have painted like Fahey contains such an element of self-reference it probably needs to be received warily. And, given the promise of McCahon's early work, it seems an odd ambition for her to have harboured.
(7) Art historian Linda Tyler's essay, 'The Creative Life of Anne McCahon (1915-1993)', runs to 17 pages of text, with 9 illustrations, and is a thoroughly-researched account of the McCahons' lives in terms of the social, political and artistic contexts existing in New Zealand at the time. But it's as if a huge baroque frame had been constructed for a tiny Annunciation subject (there was no Nativity, but an attempt at a Resurrection), the absence of much post-art school work seemingly meant to be filled by all this historical information.
This earnest padding takes some curious turns: on p.45 there is reference to "an offer of work at Auckland Art Gallery … made by the visiting director Eric Westbrook", but it's well-known this was a mistaken impression on Colin's part. When he went to Auckland soon after he found there was no job, but Westbrook took compassion on his situation and signed him up as a cleaner. On the same page there's reference to Anne McCahon's illustrative work for the School Journal, then the statement: "Russell Clark, whom the McCahons knew from Dunedin had worked for the School Journal before he travelled overseas on war service, so she knew it was economically viable." Then, as now, such piecemeal contract work hardly equates to the most junior university salary - anything but - so what "economic viability" might mean in this context remains a mystery.
Anne McCahon's still life flower studies seem to have been her forte - her most reproduced work is 1937's Poppies - but elsewhere her hand is less sure. The reproduction on p.26 of a landscape, Portobello Otago Harbour of 1940-41, is adventurous rather than overtly successful, and an interior, Vicarage Bed c.1937, stands little scrutiny when compared with what the Euston School was doing in the UK around the same time, or with what the Bloomsbury group was doing earlier. But, as the essay informs us on p.32, Vicarage Bed was bought by Dunedin taste-maker Rodney Kennedy and shown proudly to visitors, with the author comparing it to van Gogh's 1889 Bedroom at Arles. This kind of provenance-building around a work that is conspicuously minor both formally and in terms of technical competancy is simply ridiculous.
(8) The nearest was the then Auckland City Art Gallery's Louise Henderson: the cubist years 1946-58, 38 pages, 1991. At the other end of the short spectrum is the A4 folded-in-three catalogue devoted to both Rata and Colin Lovell-Smith, published by the then Rotorua Art Gallery in 1985, which remains her only discrete publication. Admittedly, Rata's work was covered in Peter Simpson's recent Bloomsbury South, but it's clear the author does not rate her work highly.
(9) 30 January 2017, p.72.