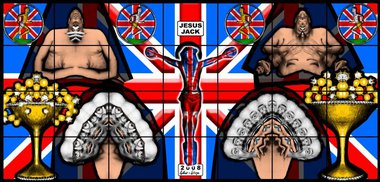 JJ Harper – 12 October, 2022
Art is boring because we're afraid and criticism is flopping for the same reason. The people who're now taking this position are still caught up in an identitarian agenda that is, in part, to blame for the conundrum they're complaining about. All this is extolled by New Zealanders' insular attitude and constant migration (incongruous attitudes but nevertheless true) fostering a dialogue that can never move beyond itself and resolve its own metanarrative.
Lana Lopesi's latest Metro (Spring 2022) essay Why art is a little boring right now (and why that might be for the best) I think was a slap in the face. Opening on a description of panopticism, Lopesi links the Foucauldian to the dilemma of Auckland's boring art.
"[T]here is currently an air of boredom in Auckland's visual arts (which [is] not a critique of any artist or exhibition, but a read of the vibe, which from my perspective includes a minimised appetite for risk, a culture of caution and the irrelevance of our city's galleries in wider cultural terms)."
She's completely right about the state of things: an evermore digitised panopticon fertilising a climate of "collective accountability" (Me Too, Black Lives Matter, Stop Asian Hate). Even in her own description of this 'vibe' Lopesi hesitates to make critical examples of any artist or exhibition. We are afraid of being wrong. Self-regulating our behaviour and art so as not to upset the collective, making us "blander" and robbing us "of what is messy and tense and chaotic and extrajudicial about art".
The article sketches the Twitter industrial complex that dissolved the role of critic and gave Lopesi her own 'platform' to critique, "you could just fire out some tweets or start a blog". I too began gaining a *very small* amount of notoriety writing for various blogs and ended up starting my own (now defunct) blog whale oil (riffing on the Cameron Slater blog of the same name, naturally). Like Lopesi I had "moralistic rather than aesthetic concerns", actually in direct response to her and her peers (though completely irony-poisoned and indulging in brutish humour, hence the name). Again, like Lopesi, "[a]nyone who had more social power than me was fair game" - and that meant everyone. Though, I behave a little bit better now.
None of this is new, I'm not the first person to be a domestic hotheaded online critic and I wasn't the only person parroting social justice excess. I'm glad those previously against the concept have begun sublimating the idea into institutional pages. Much of what Lopesi writes is praiseworthy and as she notes our arts sector repeats itself over and over in a state of constant arrested development because nobody really wants to stick around.
In spite of my general agreement with Why art is a little boring, I find it ironic. Lopesi bemoaning this cultural desert is hypocritical considering her written persona was part of the very problem she describes i.e. "abstracted violence of the white imagination in the work of Francis Upritchard". Taking from Zygmunt Bauman, it's Liquid Social Justice. The essay lacks any self-reflection on Lopesi's own role and participation in the problem she now names—"no critique is possible without entering some kind of Oppression Olympics"—so often this 'criticism' Lopesi speaks of, was intended to stop others from speaking, a predicament she only mentions in passing. Her writing needs a dose of materially informed analysis atop her usual decolonial lens obstructing the role of class. Considering her new gig I'd imagine it was a tactical decision to publish this now.
The successor to Lopesi's Metro Arts editor role, Tendai Mutambu, compliments her treatise on boring art by further complaining about the lack of criticism in Metro's weekly arts newsletters, "[a]rts criticism in Aotearoa is in its flop era." This conversation is an ouroboros and New Zealand's Peter Pan syndrome rejects attempts to interrogate.
Predictably, Mutambu's thoughts on criticism are muddled. In the 6 September Metro Arts newsletter he praises Coco Solid's call for editors to choose "the right critics" to review art (i.e. those with the 'cultural knowledge' to 'correctly' engage with said art, a fraught concept in my opinion)—in the subsequent newsletter Mutambu is chastising the Auckland Art Gallery's Gilbert & George show for not going far enough:
"The work on display at Toi o Tāmaki was admittedly not the artists' most provocative. No giant turds, images of the artists exposing their anuses, or racial slurs for titles. (The swastika appears a few times but in uncontroversial ways: as an object of condemnation, accompanied by the phrase 'the only good fascist is a dead one')."
Arguing that in the artists' ageing their work is getting more luridly ornate "to the detriment of its impact", Mutambu wishes this show was more daring. Sounds like a more controversial use of the swastika would've perked his interest. I think we all owe Mercy Pictures an apology right about now, then. As recently mentioned on the podcast that needs no introduction, the use of anti-semitic imagery will always have a pro-semitic invocation—it's a reminder.
Via Instagram Mutambu shares a story claiming his writing is "spicy"… but it just isn't. There are zero stakes to critiquing the Auckland Art Gallery. You put nothing on the line to say that the big institution—who's especially out-of-vogue right now—has staged a bad show. Sure, I'd agree that Gilbert and George are ever-middling but Mutambu frames it as an undoubtedly bad idea from the outset: "why would the gallery stage [this] show?" There was a communal presumption that this exhibition could be nothing but bad, so how could it have ever been good? The DNA Ancestry funding-bludger show fell equally as flat but it's not as permissible a target, is it?
Mutambu claims to want proper Criticism, Godamnit! But what does this actually mean? 'You've gotta look at an artist's whole oeuvre!' 'No more personal essays!' If the 'criticism' Mutambu is calling for is like his Gilbert and George review he's proving his own case—New Zealand criticism is flopping. Ultimately, Mutambu wields a dull blade. He's held hostage by the same phenomenon Lopesi describes; claiming the opposite (i.e 'spice') belies both of their evergreen ideological inconsistencies and careerist lean in.
And, is criticism not just essayism? As Adorno writes, "the essay's innermost formal law is heresy". This elasticity of form means you can never be genuinely sure of what someone means when they talk of 'real' criticism. Suspending semantics, I think it means they want a little meanness but if you're mean at all that's actually a no-no! The infamously searing Manhattan Art Review can barely function in New York because the 'art world' is truly petite.
The current situation where only the largest institutions or historical titans can be reconsidered (Theo Schoon, Colin McCahon, Gordon Walters) gives moments of groupthink permission to be savagely indulgent. Panopticon-cum-The Purge. Suddenly, 'real' criticism is okay if the collective is deeming you morally irreprehensible, whether the claims have credit or not. In the heat of the moment, when it's needed most, no one demands critical thinking. But then again, I'm not so sure these are emotions that can be successfully mediated through a more open and engaging critical discourse, they're just too human nature-y.
My favourite critic Dean Kissick is clearly writing around social and professional obligations. The tension of art for art's sake and capital's demand that you professionalise this interest to make it sustainable—'Didn't you realise you weren't supposed to piss people off?' Your safest bet for critique is to be anonymous.
So, I don't understand what structures one thinks can be put in place to facilitate criticism. It's dry here because its presuppositions mean it's near impossible to critique and exist in our social context. The collective is watching. Occasionally someone tries lecturing me about notions of criticism with care but it's still an ever-fraught mission. You can write the most lukewarm review but artists are sensitive people and they will bite your head off whatever you say, even if it's gushing praise.
It's no surprise that the only tenable modes of art writing in New Zealand have become PR, personal disclosure or occasionally excerpts of academic texts. I'm guilty of all these approaches too; they have their place and shouldn't be written off. The growing resentment of the personal essay-as-art criticism is unforgiving and rude!
In a recent conversation I was reminded of criticism's value as an archive; specifically EyeContact's merit as an exhaustive record of New Zealand art. So, when Mutambu says his "circles are awash with complaints of the all-too-prolific cultural commentator who charges forth, paying little attention to detail, running roughshod over 'nuances'," he's articulating a deep lack of respect and little understanding of criticism's utility.
This conversation is keeping us stuck in the same paradox that has always haunted our art. Art is boring because we're afraid and criticism is flopping for the same reason. The people who're now taking this position are still caught up in an identitarian agenda that is, in part, to blame for the conundrum they're complaining about. All this is extolled by New Zealanders' insular attitude and constant migration (incongruous characteristics but nevertheless true) fostering a dialogue that can never move beyond itself and resolve its own metanarrative.
But New Zealand's parochialism has its benefits too. By sheer proximity you've gotta work out your interpersonal issues and reconcile. Moaning about the state of things isn't productive and making easy critiques to laude in is lazy. My advice is to go fucking hard, critique a painting like you're being held at gunpoint and it'll be your last words—just keep your heart open after the fact.
JJ Harper